Creamy Cheesy White Chicken Chili
2/15/2017, noon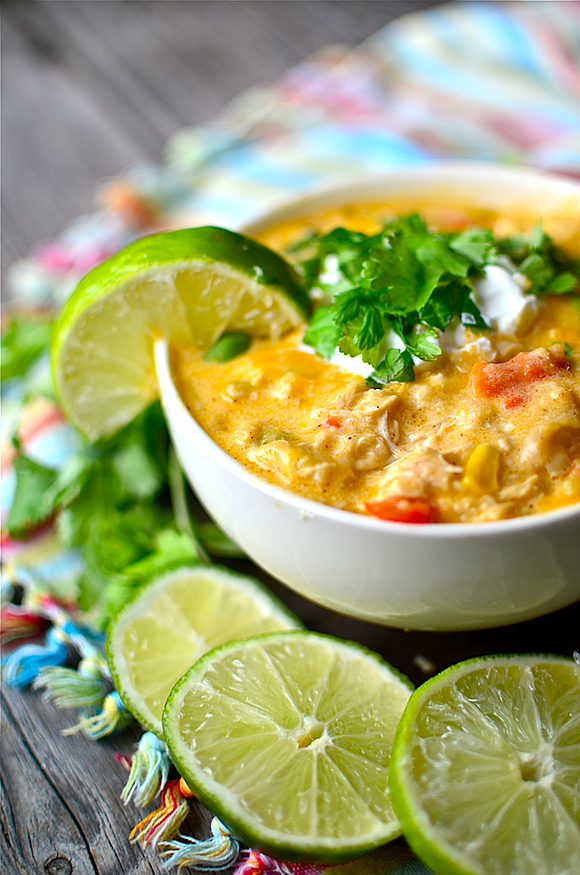 SERVINGS: 8
INGREDENTS:
1 Rotisserre Chicken, shredded
1/2 of a white onion, chopped
5 cloves garlic, minced
1/2 of a red bell pepper, chopped
7 oz. can of green chiles
8 oz. frozen corn
2 15.5 oz. cans white kidney beans (cannelli beans)
32 oz. chicken stock
1 teaspoon cumin
1 teaspoon chili powder
1/2 teaspoon garlic powder
1/8 teaspoon pepper
1/2 teaspoon salt
1/2 cup sour cream
4 oz. cream cheese
1/4 cup cornstarch
2 1/2 cups shredded pepperjack & monterey jack cheese
Cilantro and limes for serving
DIRECTIONS:
In a large pot, saute the onion, garlic, and red bell pepper in a little bit of oil on medium heat until softened. Add the chicken, chiles, corn, beans chicken stock, cumin, chili powder, garlic powder, salt, and pepper and continue cooking until it comes to a simmer (if you prefer a non-creamy soup, it's great at this point too!). Add the sour cream and cream cheese. Toss together the cornstarch and cheese and add to the pot. Continue cooking and stirring until thickened. Serve with cilantro and lime wedges.