H.S. Boy's Basketball: Joliet West ends regular season on high note
Alex Ortiz | 2/22/2017, 10:34 p.m.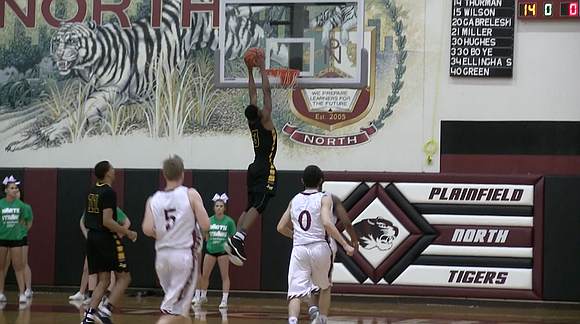 PLAINFIELD - Joliet West (23-3) finished its impressive regular season at Plainfield North with a 68-44 win on Wednesday night.
West's senior guard Teyvion Kirk led his team with a 24-point night while his teammate, senior guard Trevian Bell added 13 of his own.
Plainfield North came out with a fast start and led Joliet West 17-14, but the boys from West took control from there leading 33-22 at the half. Even when the entire first team was taken out, Joliet West managed to maintain a double-digit lead.
Up next, Plainfield North and Joliet West enter the playoffs in the Frankfort (Lincoln-Way East) Sectional. Plainfield North plays Andrew on Monday at home, February 27 at 7:30 p.m. Joliet West get a first round bye and will play the following day at 7 p.m. against the winner of the Lincoln-Way Central and Plainfield Central game. Joliet West is along with Bolingbrook and Joliet Central as the top three ranked teams in the bracket, but the Tigers are not taking anyone lightly as many teams are playing good basketball as the playoffs start.
"Despite records, you saw a lot of teams that really didn't have solid records are now playing really good basketball," Joliet West Head Coach Nick DiForti said. This is what their coaching staffs want."