SSIP to hold "Suburban Interfaith Unity Vigil"
Alex Ortiz | 2/22/2017, 8:56 a.m.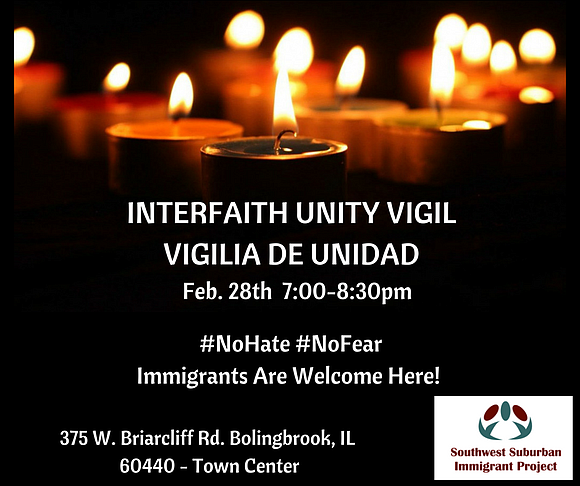 The Southwest Suburban Immigrant Project (SSIP) is organizing a "Suburban Interfaith Unity Vigil" at the Bolingbrook Village Town Center on Tuesday, February 28 from 7:00 to 8:30 p.m. The point is to show solidarity with immigrants
SSIP Executive Director and Co-Founder Jose Vera stated in an email:
"Our immigrant and refugee communities are living in fear. Raids and deportations are spreading, new enforcement measures are taking effect, a Muslim ban was stopped by the courts, and a new one is expected to roll out this week.
Meanwhile, some suburban municipalities around us have begun hosting town halls to address these issues and to ensure immigrant families that they are welcome here. But, our very own local government has yet to stand up for our immigrant and refugee communities in Bolingbrook."
Vera said the meeting is open to people from all communities and of all faiths.
Last week, the Joliet City Council hosted a special community meeting to address residents' concerns about immigration issues and clarify the roll of the Joliet Police Department in immigration law enforcement. As of yet, the village of Bolingbrook has not confirmed any plans to hold a similar meeting.
For more information, you can check out the Facebook event here.