Midland States Bank Contributions
2/28/2017, 6 a.m.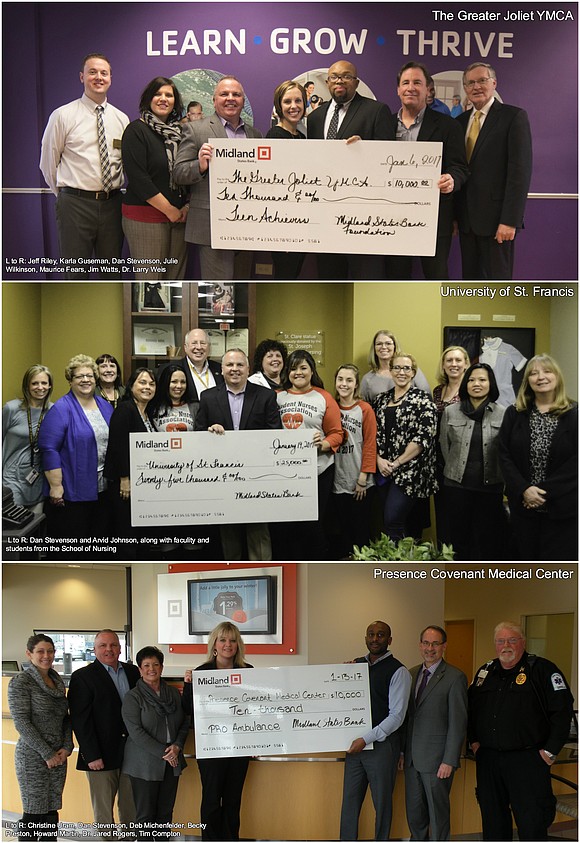 The Midland States Bank Foundation contributed to the Greater Joliet YMCA, the University of St. Francis and the Presence Covenant Medical Center of Urbana. The contributions, totaling $45,000, go towards supporting each organization's community assistance programs.
The Greater Joliet YMCA, received $10,000 to support the organization's Teen Achievers program, a national academic/career development program for high school youth. The program gives students a chance to grow as young adults and meet professionals in the area.
"The grant from the Midland State Bank Foundation will truly help us change the trajectory of the lives of Joliet teens. Their support will provide many at-risk young adults with mentorship, college readiness, and encourage them to set and achieve high personal and educational goals," commented Julie Wilkinson, Senior Director of Development at the Greater Joliet YMCA.
The University of St. Francis, received $25,000 in support of the University's scholarship fund, as well as, the purchase of a table at the 60th annual Caritas Scholarship Ball. The University provides $17.8 million in gift assistance to students each year.
"The incredible generosity of the Joliet and Will County communities continues to inspire and affirm the important work that is being done by the University of St. Francis," said President Johnson. "Each and every dollar raised at Caritas directly supports our students' preparation to contribute to the world through service and leadership."
The Presence Covenant Medical Center, has received a $10,000 contribution towards the organization's PRO Ambulance Service. The funds will be used to purchase safety equipment for EMT Personnel with Pro Ambulance in Champaign County.
"We are very grateful for the support of Midland States Bank to help us help our community with dental issues, through the partnership of SMILE Health and Promise Healthcare, by supporting our adult mobile dental clinics," commented Sheri Ervin, the Regional Community Health Integration Director at Presence Covenant Medical Center. "That is something we greatly appreciate and it helps us immensly."
The Midland States Bank Foundation was created to provide for the improvement of the general welfare, education and health in the communities where the bank operates and where its employees reside. Since its creation in 2011, the Foundation has contributed more than $500,000 to non-profit organizations throughout Midland's footprint. "In only our fifth year, I am pleased at the amount of support we have been able to provide in the various communities we serve," commented Leon Holschbach, President and CEO of Midland States Bank. "Through the Foundation, we enhance our ability to live up to our 'Great Strength. More Heart.' commitment by providing resources that can have a favorable impact."