Traynere to kick off Bolingbrook mayoral campaign
Alex Ortiz | 1/2/2017, 2:56 p.m.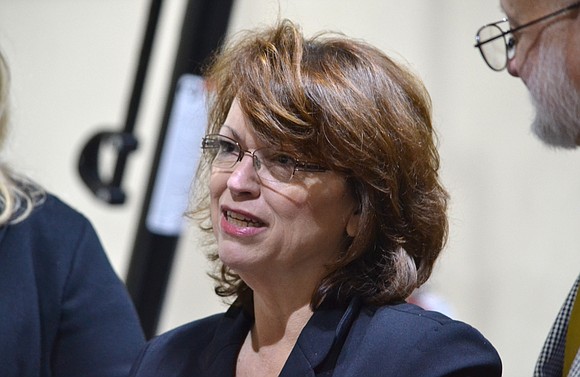 BOLINGBROOK - On Tuesday, Jan. 3, Will County Board Member Jackie Traynere will launch her campaign for Bolingbrook mayor, along with the rest of the Bolingbrook United ticket, at Home Run Inn Pizza in Bolingbrook. Other members of the ticket include Jaime Olson for Village Clerk, and Bob Jaskiewicz, Mary Helen Reyna, and Terri Ransom for Village Trustees.
"We're inviting as many people who want to learn about us and meet us as possible," Traynere said.
The new party was officially established last December to challenge the incumbent Mayor Roger Claar, who has been in the position since 1986. Claar sparked backlash for inviting then-presidential candidate Donald Trump to come to Bolingbrook. Several community members came to protest the visit at the Bolingbrook Golf Club.
Traynere spent the week before introducing herself to Bolingbrook residents including stopping by a local Mosque to connect with local Muslims as they launched a campaign to combat Islamophobia. The issue has become a concern, especially since Trump's election to the presidency, even locally. Traynere described what happened to a Latina woman who works at the cleaning company she runs with her husband and brother-in-law. The woman's car was vandalized the day after the election with a "hate message" and her tires were slashed. So Claar's invitation was an opportunity for her and her supporters to send a message to the larger community.
"It's outlined in the name of our party," Traynere said. "We want everyone to feel a part of the community and that they are a part of Bolingbrook and that it's not just a community for the elite that can afford to go to a fancy golf club. It's a community that includes everyone and we want everyone's voices to be heard."
Donations are requested for those who want to attend the event. It starts at 5:30 p.m. and goes until 7:30 p.m. You can find more information on the event Facebook page here.