Salmon With Baby Artichokes
1/4/2017, 10 a.m.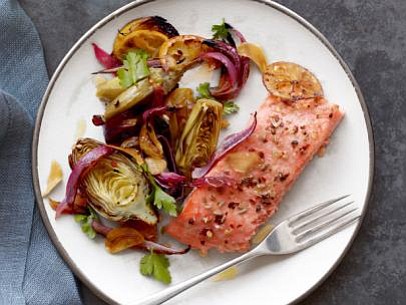 SERVINGS: 6
Ingredients
1/3 cup extra-virgin olive oil
6 large cloves garlic, thinly sliced
3 lemons
16 baby artichokes
Kosher salt
1 red onion, cut into thin wedges
Freshly ground pepper
1 2 1/4 -pound salmon fillet (in one piece)
1 1/4 teaspoons fennel seeds, crushed
1/4 teaspoon red pepper flakes
3 tablespoons torn fresh parsley
Directions
Heat the olive oil in a skillet over medium heat. Add the garlic; cook, stirring, until golden. Using a slotted spoon, transfer the garlic to paper towels. Reserve the oil.
Fill a pot with cold water. Add the juice of 2 lemons, then add the 2 lemon halves to the pot. Cut off the top inch of an artichoke with a serrated knife. Cut off the stem and snap off the tough outer leaves. Using a paring knife, cut away the tough green parts around the base, then halve the artichoke lengthwise and add to the pot. Repeat with the remaining artichokes. Add 1/4 teaspoon salt and 1 tablespoon of the reserved garlic oil to the pot and bring to a simmer over medium-high heat. Simmer 4 minutes, then drain. Discard the lemon halves.
Position racks in the upper and lower thirds of the oven and preheat to 400 degrees F. Thinly slice the remaining lemon. Pat the artichokes dry; toss in a large baking dish with the onion, lemon slices, 2 tablespoons of the reserved garlic oil, 3/4 teaspoon salt, and pepper to taste. Spread in a single layer and roast on the upper oven rack, stirring once or twice, until tender and lightly charred, about 35 minutes.
Meanwhile, brush another large baking dish with 1 tablespoon of the reserved garlic oil. Add the salmon, skin-side down, and rub with any remaining garlic oil. Sprinkle with the fennel seeds, red pepper flakes, 1 teaspoon salt and 1/4 teaspoon pepper. Roast the salmon on the lower oven rack until just cooked through, 15 to 20 minutes. Cut into 6 pieces and divide among plates. Serve with the roasted artichoke mixture. Top with the parsley and fried garlic.