College sports roundup: Lewis men's basketball and men's volleyball collect wins
Alex Ortiz | 1/8/2017, 4:53 p.m.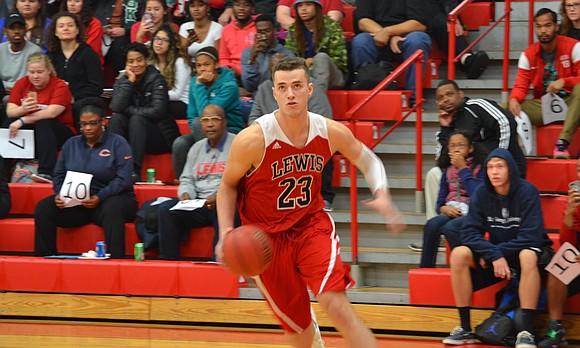 Lewis men's volleyball head coach Dan Friend earns 400th career win
The No. 6 Lewis men's volleyball team notched head coach Dan Friend's 400th career win against NJIT on Saturday night. The Flyers won in four sets 25-22, 25-15, 22-25, 28-26 in the non-conference matchup.
Friend has 241 wins as the head men's volleyball coach at Lewis, 17 as the interim coach of the women's volleyball team, 76 as head coach of the women's team at Newman and 66 as Newman's men's coach.
Lewis is now 1-1 overall on young the season. The men's volleyball team plays again at home on Friday, January 13 against Harvard at 7 p.m.
Lewis men's basketball upsets No. 12 Drury
The Lewis men's basketball team pulled the upset 76-75 victory against No. 12 Drury University on Saturday, the first win against the Panthers in program history.
Senior guard Miles Simelton led the Flyers with 21 points, including 3 three-pointers. Sophomore center Frank Vukaj recorded 16 points and 6 rebounds. Sophomore forward Delaney Blaylock had 10 points, 6 assists, and 5 rebounds.
The men's basketball team, now 9-5 overall and 4-0 in the GLVC, plays again on Thursday, January 12 at home against Missouri-St. Louis at 7:30 p.m.
No. 16 Lewis women's basketball falls to Drury
The Lewis women's basketball team's 18-game GLVC road winning streak ended on Saturday against No. 12 Drury with a 70-54 loss. Drury had a big third quarter outscoring the Flyers 23-11.
Lewis senior guard Jamie Johnson led her team with a game-high 21 points; sophomore forward Jessica Kelliher contributed 11 points and 9 rebounds.
The women's basketball team, now 12-3 overall and 4-1 in the GLVC, will play again on Thursday at home against Missouri-St. Louis for a 5:30 p.m. tip-off.