Local pastor's book details his personal struggles with race and faith
Alex Ortiz | 1/12/2017, midnight
After finishing high school, Quarles moved on to Malcolm X College on the west side of Chicago. There, he encountered the Nation of Islam.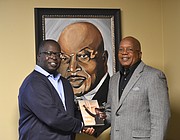 "I wasn't looking necessarily for a new faith," he said. "For me it was not about leaving Christianity, which I had grown up in as a child, but it was more about finding a black organization that was helping people, particularly black people."
For Quarles, the Nation of Islam's emphasis on education was what really intrigued him. He became involved a sometime later he was living in Aurora and attended a mosque there and was even interested in becoming a leader in Nation of Islam. But some of the organization's teachings in regard to race troubled Quarles.
"Their perspective was that the white man was evil," Quarles said.
Quarles had already started training toward becoming a minister and was close to changing his name, but he ultimately decided to leave the Nation of Islam. To Quarles, this was a time where he wanted to return to Christianity and it was a lesson in how to go about working toward societal change.
"We will not accomplish the changes that we want to accomplish if we think we can use hate to defeat hate," he said. "That's the wrong approach."
Quarles' journey brought him back home to Mt. Zion church in Joliet, the setting for much of his book, where he was put in charge of the youth ministry. He's helped mentor hundreds of young people throughout his time as a pastor. Eventually, he made his way to the Church at Bolingbrook in 2003 where is his the senior pastor. Now, he is taking the life lessons he's attained and wants to pass it on to the next generation trying to navigate an ever-changing and difficult world with love, faith, and a commitment to help their community.
"It is a love story," Quarles said. "The story of a young man and his journey that carries him into many various aspects of life but in the end he ends up back in the welcoming arms of a loving God. Love is the answer, not hate, not racism, nor prejudice but love. When we are motivated by love nothing is impossible."
The book is available now from Barnes and Noble and Amazon.