H.S. Boy's Basketball: Bolingbrook wins back-and-forth contest against Homewood-Flossmoor
Alex Ortiz | 1/14/2017, 1:06 p.m.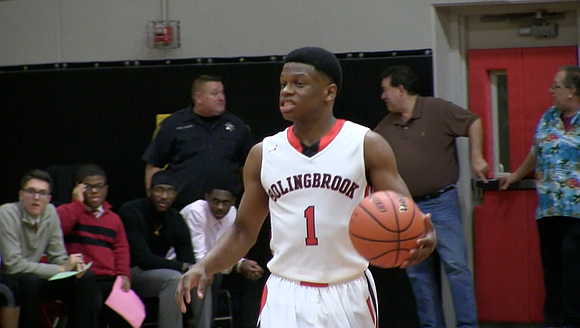 BOLINGBROOK - This contest saw multiple swings of momentum with an initial fast start by the Bolingbrook Raiders, a comeback by the Homewood-Flossmoor Vikings and then a tight finish. Bolingbrook would prevail 78-73 though remaining undefeated at 13-0.
Sophomore forward Tyler Cochran had a bit of a coming out party with 26 points, several of which came in key moments down the stretch. Sophomore guard Joseph Yesufu added 14 points of his own.
"The best thing about those two guards is they're sophomores," Bolingbrook Head Coach Robert Brost said. "Two of the best sophomores in the state. I'm going to like coaching them for two and a half more years."
Senior forward Nana Akenten had 12 and senior forward Malik Binns contributed 16.
The Raiders came out quickly controlling the first quarter leading 20-14, but then the Vikings offense came alive, outscoring Bolingbrook 24-18 in the second quarter. It was 38-38 at halftime.
The third quarter saw the Vikings begin to pull away with solid outside shooting and better defense. But Bolingbrook was able to keep it at a four point deficit for the start of the fourth quarter 62-58.
Then, the Raiders took over with turnovers, including a big one by Yesufu to establish a lead. Bolingbrook outscored the Vikings 20 to 11 in the fourth quarter for the final margin.
"We really wanted to pressure them and make them put it on the floor in the second half," said Brost.
Up next, Bolingbrook travels to Oswego on Monday, December 16 before a big showdown the next day against Joliet Central.
Other local results:
Joliet West 97, Plainfield South 45
Oswego 52, Plainfield North 40
Lockport 47, Sandburg 26
Minooka 41, Joliet Central 39
Plainfield Central 61, Plainfield East 59