Over 500 turn out for Joliet MLK day of service event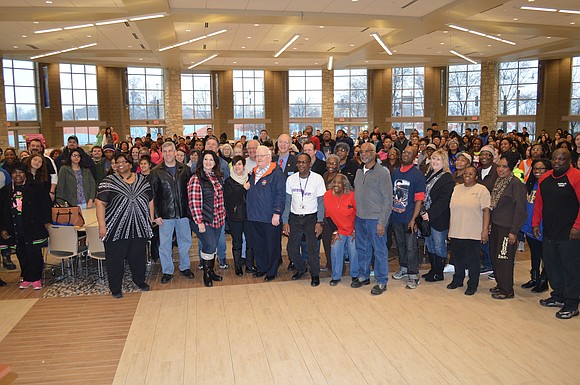 In his most well known speech, civil rights leader Martin Luther King Jr. talked about having a dream.
For 15 year old Roderick Sims, on the morning of MLK's birthday and national holiday, it looked like he was dreaming of just a few more minutes of sleep.
Sims along with his friends Devin, 16, and Maliq, 14, were waiting to get started on their volunteer project in the multipurpose room of Joliet Central High School. The three friends were shaking off the last vestiges of sleepiness after having trekked from Bolingbrook in the freezing rain to help out on a painting project with Senior Services Center of Will County.
The three friends were there at the encouragement of mom Verdene Sims who said she had been looking for a volunteer opportunity to get involved in for the "Day on, not a Day off" day being organized in Joliet.
Sims said she read about the event over the weekend and signed up on Monday morning as over 540 volunteers gathered in the Joliet high school starting at 7:30 a.m.
Ms. Sims said she hoped that the outing would instill the idea in her son and his friends to get involved and do good in the community much like Mr. King taught.
Now in its eleventh year, the event has grown from 11 volunteers in 2006 to 542 in 2017.
One of the organizers, Joliet Township School Board member R. Dale Evans said that he would eventually like to see as many as 1,000 attend the volunteer event in a single day.
Over 3,000 volunteers have taken part since its inception contributing over 14,000 hours to over 201 projects around the city.
On Monday groups were making blankets and teddy bears for area shelters among other projects in the school building said Joliet Central principal Shad Hallihan who estimated he had at least 200 high school students in attendance on their day off.
"It's fantastic," he said, "I'm so proud to see so many students come out to help their community."
One of the big projects for the day included the removal of around 15,000 wreaths from the grave sites at Abraham Lincoln Cemetery in Elwood. Volunteers heading out to help in the freezing rain included Joliet's Mayor Bob O'Dekirk, council member Brooke Hernandez Brewer and State Representative Pat McGuire.
The strong showing of volunteers is emblematic of the giving spirit of Will County and the City of Joliet said Will County Executive Larry Walsh who has participated since the first year of the "Day on" event.
"That's what Joliet and Will County is about, very giving," said Walsh who said that the day "honors the legacy of Martin Luther King by helping one another."