LIGHT MEXICAN CASSEROLE
1/18/2017, 11 a.m.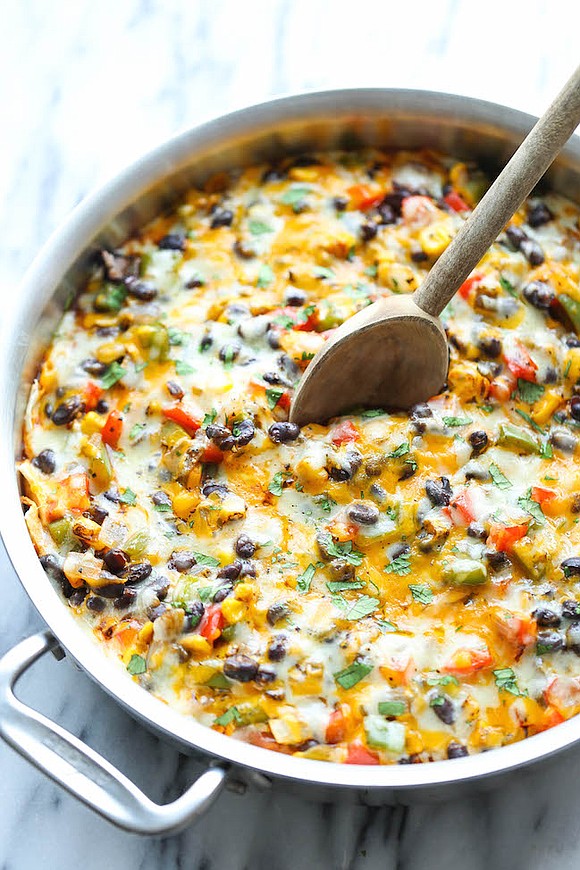 SERVINGS: 8
INGREDIENTS:
1 tablespoon olive oil
2 cloves garlic, minced
1 onion, diced
1 red bell pepper, diced
1 green bell pepper, diced
1 (15-ounce) can black beans, drained and rinsed
1 cup corn kernels, frozen, canned or roasted
1 teaspoon chili powder
1/2 teaspoon cumin
Kosher salt and freshly ground black pepper, to taste
1 (4.5-ounce) can chopped green chiles, drained
2 tablespoons chopped fresh cilantro leaves
4 (8-inch) whole wheat tortillas, chopped
1 (16-ounce) can fat free refried beans, warmed
1 (10-ounce) can enchilada sauce
1 1/2 cups reduced fat shredded Mexican blend cheese
DIRECTIONS:
Preheat oven to 375 degrees F. Lightly coat a 9×13 baking dish with nonstick spray.
Heat olive oil in a large skillet over medium high heat. Add garlic, onion and bell peppers. Cook, stirring frequently, until tender, about 3-4 minutes. Stir in black beans, corn, chili powder and cumin until heated through, about 1-2 minutes; season with salt and pepper, to taste. Stir in green chiles and cilantro; set aside.
Place tortillas evenly on the bottom of the baking dish. Spread refried beans evenly over the tortillas, followed by the onion mixture and enchilada sauce. Sprinkle with cheese.
Place into oven and bake for 15-20 minutes, or until bubbly.
Serve immediately, garnished with cilantro, if desired.