Planned psychiatric hospital to fill gap in area mental health services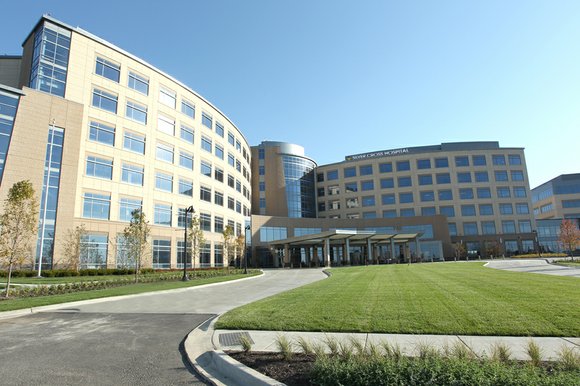 Last week, Silver Cross Hospital announced a $22 million capital project that will expand mental health services in Will County.
The announcement was made at Silver Cross' New Lenox hospital campus with area leaders including the village's mayor Tim Baldermann, as well as Will County State's Attorney James Glasgow, and county executive Larry Walsh in attendance.
The expansion will eventually address shortfalls in coverage following a state-instituted closure of a mental health center in Tinley Park in 2012.

The closure has left the area "with a critical shortage of beds that has forced more than 60 percent of mental health and chemically dependent patients to leave the area for treatment," according to a press release from Silver Cross.
Those who can't get treatment are forced to seek help in area emergency rooms, or can often end up in the corrections system.
The new Silver Oaks facility will be in partnership with US HealthVest, the parent company of Chicago Behavioral Hospital and will replace the current 20-bed Acute Mental Illness unit at Silver Cross. According to a release from the Will County Health Department, "all behavioral health services would be consolidated into the new building" which "consist of two floors of 50 semi-private rooms."

The partnership, according to the press release, is designed to address the mental health crisis in Will and Grundy Counties.

Before construction can begin, Silver Cross will need to get approval from the Illinois Health Facilities and Services Review Board.
Silver Cross Senior Vice-President and Chief Strategy Officer Ruth Colby said that the project grew from the ever-persistent need for mental health services in Will and Grundy Counties and the growing number of patients that were being referred for treatment outside of the community.
"Every year we come back to how 'there are not enough mental health services' and 'where can we get these services?," said Colby in a release.
According to a 2015 report from The National Alliance of Mental Health (NAMI) Chicago, the state has cut just over $113 million in funding for mental health services between 2009 and 2012 and closed several mental health facilities including the Tinley Park location. During that same period, emergency room visits for patients experiencing mental health issues increased by 19%. The state received a grade of 'D' on a mental health services report card released by the organization in 2009 a slight increase from an 'F' that the state received in 2006.
Accoording to the 2015 report 38.5% of adults in Illinois reported experiencing poor mental health with 16.6% living with some form of mental illness and another 3.4% living with serious mental illness. That equates to around 7.4 million adults in the state living with some form of mental illness.
"Many people still do not have access to services, due to continuing state budget cuts in mental health services and agonizingly slow progress in converting the state's system for paying service providers from a grants-based model to a fee-for-service model," the report reads.
Will County Health Department Executive Director Sue Olenek said that the proposed facility will provide a "vital need in the community."
If approved at the state level, Silver Oaks Hospital could be open by 2019.