H.S. Boy's Basketball: Romeoville extends winning streak over St. Ignatius
Alex Ortiz | 1/21/2017, 9:37 p.m.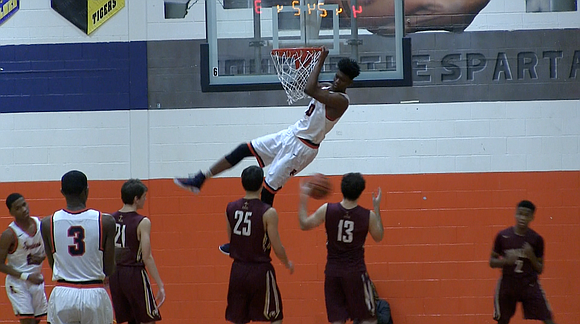 ROMEOVILLE - The Romeoville Spartans (11-7) reached six wins in a row on Saturday night with a 51-45 victory over St. Ignatius of the Chicago Catholic League.
"We've been playing good basketball, playing good defense," Romeoville Head Coach Marc Howard said. "Sharing the ball as a team and the more we do that, the better results we're getting."
Romeoville guard Mike Salter recorded a game-high 22 points including the last two free throws to put the game away for the Spartans. Guard DeAndre Heckard added another 12 points for his team.
The Spartans got off to an 8-3 lead early on, but St. Ignatius managed to pull back to end the first quarter with a 14-12 lead. The first half was a back-and-forth affair with a 24-24 tie at halftime.
Following a slow third quarter, Romeoville managed to pull away with a five-point lead with 35 seconds to go and came out with the 51-45 win.
Other local boy's basketball scores:
Friday
Bolingbrook 71, Lincoln Way East 63
Romeoville 59, Plainfield North 47
Joliet West 75, Oswego 52
Oswego East 60, Plainfield South 47
Saturday
Whitney Young 73, Joliet West 64
West Aurora 56, Lockport 52 (3 OT)