2016 Mazda CX-9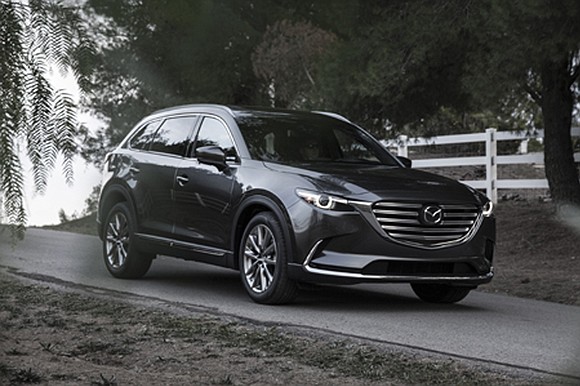 Mazda introduced its mid-size three row crossover vehicle, the CX-9, in 2006. The automaker redesigned it for the 2016 model year. And there was no need to completely redo it for this model year. Besides, it is an excellent vehicle.
Mazda put the sixth generation of all of its vehicles through a rigorous weight loss program. Branded SKYACTIV, in addition to shedding weight the goal was to increase fuel efficiency and produce a more pleasurable driving experience.
We had the CX-9 in Signature trim which is available in all-wheel-wheel drive only. It is the top of four trim levels. After going through SKYACTIV, it was 287 lbs. lighter than the model it replaced.
Mazda said the weight savings allowed it to increase window thickness and add 53 lbs. of sound deadening material and use simpler, more rigid parts to reduce noise. At 62 mph Mazda said interior noise levels were reduced 12 percent and road noise were reduced by 2.0 decibels. We didn't have any instrumentation with us so we'll take their word for it.
But at expressway speeds the Mazda CX-9 was awfully good. It was quiet, there wasn't much wind noise and road noise was minimal except on the roughest streets. And handling was great.
The test vehicle had blindside alert and lane keep which meant it would send a warning vibration and then using ABS gently steer itself back into the lane. Although it is a safety feature, it can really be annoying with a three row utility vehicle. They tend to drift a bit. We general turn the feature off because of the constant beeping of the alert system when the vehicle strays into the lane divider line or worse, into the other lane. But there was no need for that with the Mazda CX-9, it handled that well.
We thought the engine technology was innovative in a pedestrian sort of way. Our test vehicle had a 2.5-liter four-cylinder engine that made 227 horsepower. However, it made 310 pound-feet of torque at 2,000 rpm. That low end torque was key to moving the CX-9 effortlessly.
And it wasn't too bad on gas either, especially for a mid-size three-row utility vehicle. The CX-9 had an EPA rating of 21 mpg in the city, 27 mpg on the highway and 23 mpg combined. We put almost 200 miles on it including the drop off and it had a little less than half a tank of fuel left when they picked it up.
Mazda doesn't get credit for making some of the best looking vehicles on the road. They call their philosophy KODO Soul. Without the superlatives, it translates into a long hood, swept greenhouse, large wheels and short overhangs. The vehicles smooth lines started at the double-barred five-point grille which was flanked by LED headlights.
The CX-9 had shorter overhangs fore and aft: 2.3 inches shorter in the front and one-inch shorter in the rear. The A-pillars were pushed back almost four inches and that created a longer hood. The lines flowed over tapered fenders that were pushed to the edge of its body and the wheel wells housed 20-inch alloy wheels. It was a good looking flowing style.