Forest Preserve expands beekeeper program
1/26/2017, 9:26 a.m.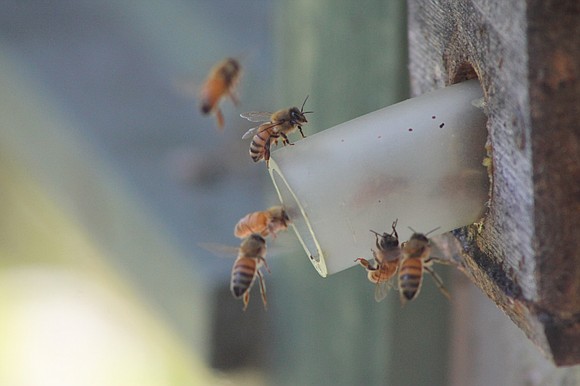 The Forest Preserve District of Will County is expanding its beginning beekeeping program from one session to six in an effort to better prepare enrollees for their new lives as honeybee hosts.
"Bee a Beekeeper!: Introduction to Successful Beekeeping" runs from 6-8 p.m. on six Tuesdays beginning Feb. 21 and ending March 28 at Plum Creek Nature Center, 27064 S. Dutton Road, Beecher. Call 708-946-2216 by Feb. 10 to reserve a spot. There is a cost per person and it is for ages 18 and older.
While the activity can be a fun hobby, beekeepers also play an important environmental role, said Kate Caldwell, a Forest Preserve District interpretive naturalist who oversees the program.
"Anyone can be a beekeeper," she said. "It can only improve your community, you as a person and the planet."
Veteran beekeeper Mike Rusnak will lead the program and he will explain why it is so important to provide healthy hives for bees and why their honey is so valuable.
"Bees are the only part of agriculture where you do not have to use herbicides, fungicides or any agricultural chemicals," he said. "And their honey is the only sustainable food source where you are putting nothing into it and getting everything out of it."
The role honeybees play as pollinators is crucial to a healthy environment. One beehive can conceivably pollinate plants within 100 square miles.
"The more the bees pollinate, the more seeds you get and the more plants that come back next year," Rusnak said.
Rusnak said getting bees to stick around is easy.
"The greatest part about using honeybees as pollinators is that they are easily manageable," he said. "That is why beekeeping is becoming popular."
Creating more beekeepers is important because some bee species are endangered and others are declining in numbers, Rusnak said. Even managed honeybee populations are being challenged by man-made pressures including pesticides, monocultures, transportation stress to pollinate crops and lack of diversity, he added.
Rusnak teaches beekeepers to create sustainable bee hives that require little or no money for upkeep, which ultimately leads to better beekeeping strategies.
"This class will make participants part of the solution," Caldwell said. "Becoming a sustainable beekeeper will help promote plant diversity by changing the factors that lead to bee decline."
For more information on this program and other Forest Preserve District of Will County offerings, visit ReconnectWithNature.org.