H.S. Boy's Basketball: Joliet West survives scare at Romeoville
Alex Ortiz | 1/27/2017, 10:22 p.m.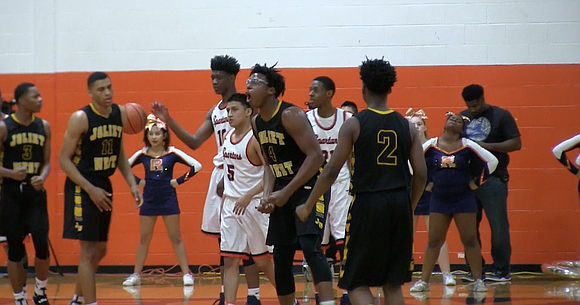 ROMEOVILLE - What a game.
Joliet West (18-3, 8-0) was coming off a two-game losing streak when it traveled to Romeoville (12-8, 6-2), which was on a seven game winning streak.
The game started out with a back-and-forth with the upstart Romeoville Spartans keeping up with one of the best teams in the state. The Tigers almost lost a 16-point lead at halftime and was down a bucket with less than a minute to go. Joliet West pulled it out in the end though with solid free throw shooting, something that had eluded the team in its losses to Whitney Young and Bolingbrook, and came away with the 69-66 victory.
Romeoville's Kahlil Blakney led his team with 17 points including a couple of three-pointers down the stretch to close Joliet West's lead to four points. Dontia Johnson and Mike Salter each scored 11 and DeAndre Heckard scored 10. Joliet West's Teyvion Kirk led his team with 19, Eddie Creal had 17 and Trevian Bell had 11.
The Spartans pulled within one with two minutes to go. Romeoville's Dontia Johnson put his team ahead 66-65 with 44 seconds left, but Bell managed to take the lead right back and secure the win with two key free throws.
Up next, Joliet West is at home next Friday against Plainfield East and Romeoville welcomes Oswego.
Other local scores:
Boy's basketball
Bolingbrook 70, Sandburg 41
Oswego 60, Plainfield East 44
Girls basketball
Plainfield East 64, Oswego 30
Joliet West 46, Romeoville 39