How much will IL tax increase cost you?
7/4/2017, midnight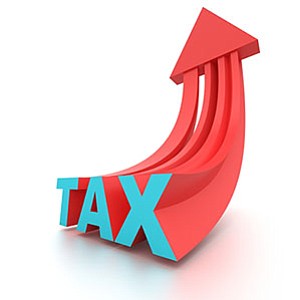 Republicans and Democrats in Illinois have united behind a plan to raise the state income tax by $5 billion a year. The Illinois Policy Institute has launched a tax hike calculator where Illinoisans can enter their income and household size and learn how much the tax hike will cost them.
"Tax hikes have been tried in Illinois before. They've inevitably failed because they don't fix the core problems of too much debt and too much spending. In fact, they allow such reckless behavior to continue," said Michael Lucci, vice president of policy at the Illinois Policy Institute. "Taxpayers need to put Illinois' government on a diet, not the other way around."
Here's four reasons why Illinois lawmakers should abandon their plan to raise taxes:
It's politically stupid. Voters don't want more taxes.* Illinoisans overwhelmingly oppose raising the state income tax to balance the budget, according to a May 23 poll. Even after two years of a painful budget impasse, 64 percent of Illinoisans surveyed oppose raising the income tax to balance the budget.

Illinois has the worst personal income growth in the U.S. Income has grown by only 0.8 percent per year in Illinois. If there's any state population that should be spared an income tax increase, it's Illinois'.

Illinois' economy is too weak for a tax hike. Illinois is growing like it's the Great Depression, only worse. In fact, Illinois' economic growth from 2007-2016 was weaker than the economic growth during the weakest period of America's Great Depression, from 1930-1939.
Weak economic growth has resulted in Illinois having the nation's highest black unemployment rate and second-highest youth unemployment rate. Illinois has the worst recovery of manufacturing jobs in the Midwest, and the worst recovery of single-family housing starts in the U.S. Finally, the Land of Lincoln still has fewer jobs than in the year 2000. Illinois' economic weakness is a long-term problem. Another tax hike will make it worse.
The state's most recent tax increase triggered wealth flight*. The 2011-2014 Illinois income tax increase triggered a significant flight of income-earning power from the state. Illinois lost more than $14 billion of annual adjusted gross income during the four years of the tax increase. The average income of a taxpayer leaving Illinois rose to $77,000 per year, compared with an average income of $57,000 for taxpayers entering Illinois. This income-earning differential – people leaving making $20,000 more than
people entering – is the largest of any state.