Slammers rally but fall short against River City
7/5/2017, 8:06 a.m.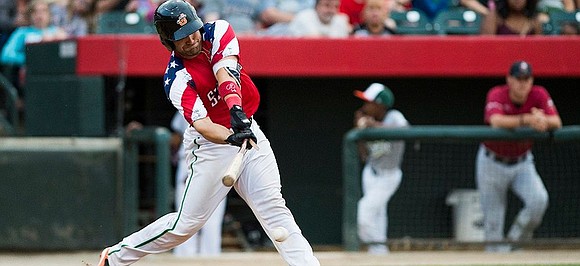 Joliet, IL – The Joliet Slammers celebrated the 4th of July with game two against the River City Rascals in front of another packed stadium. Before losing game one last night, Joliet had lost 4 in a row and looked to rebound behind Skylar Janisse who had yet to receive a loss this season. Tim Koons who has been inconsistent for the Rascals started the ballgame for the Rascals.
Janisse and Koons matched each other through 4 innings until doubles from Mike Jurgella, Josh Ludy, and Braxton Martinez plated 2-runs for River City making it 2-0. Koons continued to deal as Joliet continued to leave runners on base as Koons induced weak contact. The Joliet offense caught a break in the 7th inning after Spencer Navin began the inning with a single and moved to 2nd base on a Haslem sacrifice bunt. Chaz Meadows walked to put runners on the corners with one out as Koons found himself in his first jam of the night. Edwin Gomez scorched a grounder to first basemen Clint Freeman that squeaked under his glove allowing Navin to score to make it just a 2-1 contest.
Two batters later, a wild pitch from Jason Zardowski allowed Meadows to score the tying-run. The Slammers were unable to take the lead as they headed for some late inning play on Independence Day. Unfortunately, River City regained the momentum after Jurgella walked and stole second base and advanced to third base after Freeman flew out to deep right-center.
Defense was not as sharp tonight for Joliet with the go-ahead runner at third, a ground ball to third basemen Danny Zardon would've ended the inning, when a low throw skipped away from first basemen Rock Shoulders allowing Jurgella to score and take a 3-2 lead.
Things got wild in the bottom of the 9th as Haslem doubled to lead off the inning and advanced to third after Chaz Meadows reached on a bunt single. Edwin Gomez popped out and Silva struck out leaving it up to Danny Zardon. Cody Mincy was able to tightrope out of trouble as he fanned Zardon to notch his 5th save as the Rascals defeated Joliet by a final of 3-2.
Jason Zardowski gets the win for the Rascals as Andrew Zellner received the loss.
The Slammers look to avoid the sweep tomorrow night at 7:05 for the Slammers Military Appreciation Night.