VVSD among state leaders in 1-to-1 Chromebook rollout
7/5/2017, midnight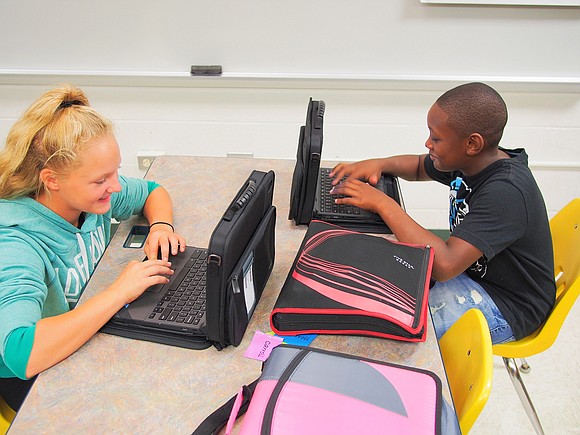 When classes begin Aug. 16, Valley View School District 365U students and educators will be the beneficiaries of one of the largest simultaneous 1-to-1 Chromebook deployments in Illinois public schools.
Nearly 12,000 VVSD students in grades 4 through 12, as well as student in the VVSD Secondary Transition Experience Program, will have individual access to district-provided Chromebooks thanks to the acceleration of what was originally a three-year plan that was launched last school year when all 7th and 8th grade student received the devices.
Originally the plan called for 6th, 9th and 10th grade students to be added to the rollout this fall, but students and educators found the Chromebooks to be so useful for curriculum delivery and learning that 11th and 12th grade students were added to the list. The district also decided to expand the program to 4th and 5th graders who were not part of the original three-year plan.
"Chromebooks have been a great addition to our classroom, especially in the area of assessment," said Gretchen Perez, 8th Grade Math teacher at Lukancic Middle School. "Students get feedback immediately, and look at data to determine areas of strengths and weaknesses. This allows us to drive our instruction to better meet the needs of students."
"We believe that technology enhances our students' learning far beyond the four walls of our schools," said Astrid Welch, VVSD's Executive Director of Technology. "Plus giving our educators access to key digital resources is critical to ensuring
all of our students are college and career ready."
Every middle school, high school and S.T.E.P . student will be able to use their own Chromebook throughout the school day and then take it home with them. Students in 4th and 5th grade will only be able to use their Chromebooks during school hours.
Current Technology Department staff members, as well as an additional staff of 30 task force team members, including several former VVSD students, are hard at work this summer with a goal of making sure the devices are in classrooms ready to use within the first two weeks of school.
To further support teaching and learning in VVSD's 21st Century classrooms, the Technology Department has expanded the Wi-Fi infrastructure to provide 40,000 simultaneous connections district-wide. Internet access will continue to improve,
according to Welch, with a goal of reaching the state infrastructure goal of 100 kbps/student.
Highly skilled Technicians will ensure Chromebooks are repaired and in good working order throughout the school year should there be problems.
"Making sure the infrastructure, support and professional development are all in place for a successful launch has taken quite a few years and many long hours to get to this point, but we're excited to see how more students can benefit this year,"
Welch said. "It has been a highly successful collaboration between our schools and the Technology and Curriculum departments to design and implement this initiative."
Individual schools will coordinate with the Technology Department to provide Digital Citizenship lessons to all VVSD students that will provide an overview of expectations on using a Chromebook in the classroom, basic Internet safety tips and
how to be a good digital citizen.
The Instructional Technology Team will continue to provide educators with training and professional development as well as "Just in Time" support from Instructional Specialists and Teaching & Learning Coaches as they continue to integrate technology into curriculum, instruction and assessment.
"The 1:1 Initiative, and tools like Google Classroom, is my dream come true," said Sally Green, 8th Grade Language Arts teacher at Brooks Middle School. "This is the best thing to happen to me during my teaching career; to be able to work with kids on this powerful platform."
More information about Limitless Learning (1:1 initiative) will be available at Back to School Registration, and at other school events. The Technology Department will provide online resources for families on how student should use Chromebooks at home, including information on free Wifi locations, and low-cost internet solutions.
Visit www.vvsd.org/LimitlessLearninghttp://www.vvsd.org/LimitlessLearning for additional information.