Plainfield therapeutic riding center getting evicted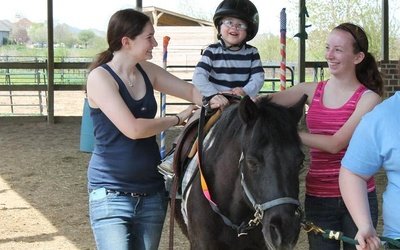 Ready, Set, Ride, a therapeutic horse riding center that's operated in Plainfield for 16 years is facing eviction following a dispute with its landlord.
The non-profit which runs equestrian therapy programs for kids with special needs and terminal illnesses found out this week that they have 2 weeks to find new homes for their 14 therapy horses after a Will County Court ruled on July3 that they must vacate the property after failing to pay rent for several months.
Director Lisa Afshari said that the eviction follows a year-long battle with its landlord who refused to make repairs and failed to alert them that the property at 13056 Essington Rd. was in foreclosure.
Afshari said that employees found out in April 2016 that the property had been foreclosed when bank reprensentatives visited the site to notify them.

Afshari said that the landlord fell behind in his payments to lenders though at the time explained that he thought the foreclosure was a mix up caused by his refinancing of the mortgage on the property.
The property is owned by Joseph Tages, a former Aurora-based doctor whose medical license was suspended indefinitely in December 2013 by the Illinois Department of Financial and Professional Regulation "after he plead guilty to willfully making and subscribing false tax returns." According to a bulletin from the FBI, Tages was indicted in 2011 for "allegedly engaging in federal tax and health care fraud." He was charged in a 12-count indictment for diverting more than $750,000 in funds from his medical practice in 2004 through 2006 and failed to pay more than $260,000 in taxes according to the indictment.
A search of Will County real estate records shows that Tages and his wife Leticia purchased the Essignton Rd. location in 2006 for $650,000.
Will County court records indicate that he is named as a defendant in two foreclosure cases filed in June and July of 2016.
According to Afshari, Tages later offered to sell the property to the non-profit for $393,000 but a title search revealed that the property had a $1.4 million lean against it.
The problems continued to compound for the non-profit when it found that donors were leery of making donations to an organization facing eviction.
Afshari said that she and the board of directors decided in January that they had lost confidence Tages' management of the property and told him that they would be willing to make rent payments to a bank or other asset manager which he refused.
"We didn't feel confident giving him a check," she said. The non-profit didn't pay rent from January to April.
In April, damage at the site caused the electrocution to two horses as well as an employee and forced the program to shut down. They eventually paid for repairs to a water pressure tank and electrical service which cost just over $2100.
It's also around this time that they offered to pay back rent to Tages minus the cost of repairs to the facility. Tages refused the offer of $7600 and took them to court.
Following the ruling on July 3, the riding center has 2 weeks to vacate the property throwing the future of the program into limbo. Afshari said that the location is ideal for parents with special needs children as it sits close to easy highway access. She said that the program serves 80 children per week with the grounds and animal care handled by a staff of mostly volunteers.
She said that she's hoping to find a real estate attorney versed in foreclosures that could help get them a stay until they can find a new location to operate.
"It's crazy now that we're fighting over $2,000," she said, adding that she thought at the time that she couldn't take the hard-earned donation money and pay it to someone who wasn't paying his mortgage.
"I feel like he's ripped off a non-profit organization," said Afshari, "Now hundreds of kids are going to pay for his mistakes."
Calls to Joseph Tages for comment were not returned.