Will County hosting homeless vets press conference Tuesday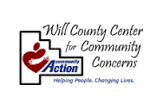 The Will County Center for Community Concerns will highlight their success in ending homelessness for area veterans at a press conference on Tuesday.
Its Continuum of Care service "received confirmation that we have effectively ended homelessness among our veterans" according to an announcement for the event which will start at 11 a.m. on Tuesday at the Will County Office Building, 302 N. Chicago St. in Joliet.
The program, according to the press release, "ensures that homelessness is rare, brief and non-reoccurring for our veterans."
Speakers at the press conference will include
• Will County Executive Larry Walsh
• Will County Board Speaker Jim Moustis
• Will County Board Minority Leader Herbert Brooks, Jr.
• Kris White, Executive Director, Will County Center for Community Concerns
• James A. Cunningham, Deputy Regional Administrator, US Department of Housing & Urban Development
• Dr. Steven Braverman, Director, Edward Hines Jr, VA Hospital
• Jennifer Rich, Director of Communications, United States Interagency Council on Homelessness
• A local Veteran who has benefited from these efforts
"These individuals will explain a partnership program in Will County that has effectively ended homelessness amongst veterans living in the county. Through the success of this program, a veteran who has been identified as homeless will be placed in housing in less than 60 days."