Old Plank Road Trail getting 20th anniversary makeover
7/12/2017, 9:44 a.m.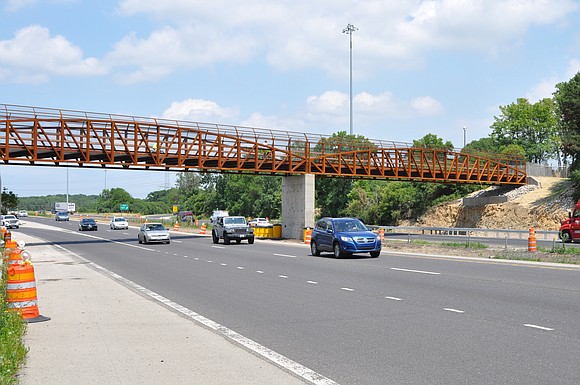 The new Old Plank Road Trail (OPRT) Bridge over Interstate 80 in New Lenox is up and running, and the old bridge has been removed just in time for the path's 20th anniversary.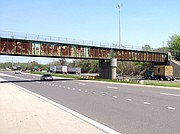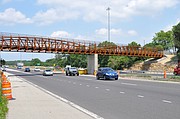 The modern, more aesthetically pleasing bow truss bridge was installed in two phases this spring. The Illinois Department of Transportation replaced the old bridge, which dated back to 1964, as part of its plan to improve and widen the I-80/Route 30 interchange sometime in the future.
The bridge will make trips on the OPRT even more appealing to runners, hikers and bicyclists, said Ralph Schultz, chief operating officer for the Forest Preserve District of Will County, which owns and manages portions of the trail along with six other governmental agencies.
The OPRT has been a popular path ever since the first 12-mile section opened two decades ago on July 19, 1997. That first trail section stretched from Western Avenue in Park Forest to the Forest Preserve District's Hickory Creek Preserve – Hickory Creek Junction in Mokena. Subsequent trail additions pushed the path west into New Lenox and Joliet. The most recent extension brought the trail a mile farther east to Chicago Heights for a total trail length of 22 miles.
Plans for creating the path date back to the 1970s when the Forest Preserve worked with 14 municipalities to try to gain ownership of the defunct Penn Central railroad line. It took around 20 years for the group to get the funding necessary to buy the rail route and there was opposition by some along the way. But trail proponents persevered and the OPRT became a reality.
Success with the OPRT paved the way for other regional trails and trail conversion projects, Schultz said.
"The OPRT was our first regional trail, our first rail-to-trail conversion and our first project funded with federal transportation funding," he said.
The Forest Preserve went on to convert two other former rail lines into the Wauponsee Glacial Trail and the Joliet Junction Trail. But the OPRT project was the first in Will County to capitalize on a defunct rail line that dated back more than a century.
"From 1855 until 1975 the Michigan Central Railroad ran freight and passenger trains along this route," according to the trail's website, oprt.org. "Before that it was a plank road and part of the Great Sauk trail that ran from Rock Island to Detroit."
Photo: These two photos show the previous Old Plank Road Trail Bridge, which dated back to 1964, and the new one, which was installed by the Illinois Department of Transportation over Interstate 80 in New Lenox this spring.