Will County groups band together to end veteran homelessness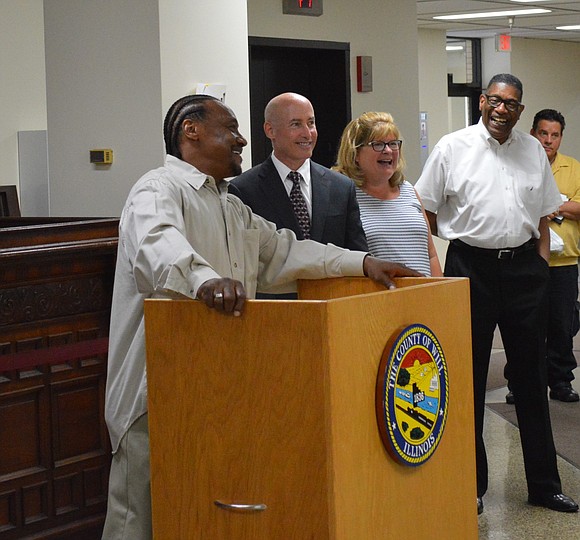 Joliet resident and U.S Army Veteran Ronald Vann spent about 25 years of his life homeless after serving in the military in the late 1970s. During his time without a place to live he said that he stayed just about anywhere from abandoned homes to garages as he battled addiction.
"That was a rough way to live," he said.
He finally sought the help of the Veteran's Assistance Commission, which sent him to Edward Hines Jr. VA hospital where he decided "I was going to use everything they give to me" to help improve his life.
"I said, I ain't going to turn around now," Vann commented on Tuesday during an announcement by Will County Continuum of Care that there are no more homelessness veteran's in the county.
He spent about 4 years with the Family & Friends transition veteran's housing saying he used "every opportunity" offered to him. Catherine Beavers, executive director of the Family & Friends Transitional Veterans Home in Joliet said that since his time with the program Vann is "a totally different person and someone who is always quick to lend a hand when someone needs it."
"He's a changed person," added Beavers who said her agency fills the gaps for veteran's needs finding housing, helping with education and employment opportunities.
Those opportunities for veterans come from a consortium of community agencies in Will, Kendall and Grundy Counties including the Will County Continuum of Care, which celebrated an effective end to veteran's homelessness this week, making the county the 50th community in the nation to do so according to James A. Cunningham, Deputy Regional Administrator, US Department of Housing & Urban Development. The federal agency has committed to continue working with local partners "to make sure that homelessness among veterans is rare, brief and non-recurring."
Since implementing what is being called a "systematic response" to veterans in housing crisis the county has gotten over 100 veterans into their own homes since 2016 including Vann who said that in September he will celebrate his first year in his own apartment.

Dr. Steven Braverman, Director of Edward Hines Jr., VA Hospital, noted that the indivisible front that Will County agencies have presented to solve the problem is akin to the prime numbers of the date on Tuesday (7/11) also known as "prime day" on Amazon.com.
"It takes the collective effort of all in order to end that homelessness," he said. "So today is not about shopping but about the unity of effort."
Vann marvels at the mundane aspects of living in his own home including paying for insurance, getting his mail, paying bills and shopping for groceries and cooking.
He said his next goal includes getting a driver's license and eventually his own vehicle even though he still enjoys biking around town, his primary mode of transportation for over 30 years. He also plans to continue to help veterans who need it.
"You do the right thing and the right thing will follow," he said.