Film Review: Can't Stop, Won't Stop: A Bad Boy Story
Dwight Brown - Film Critic | 7/13/2017, midnight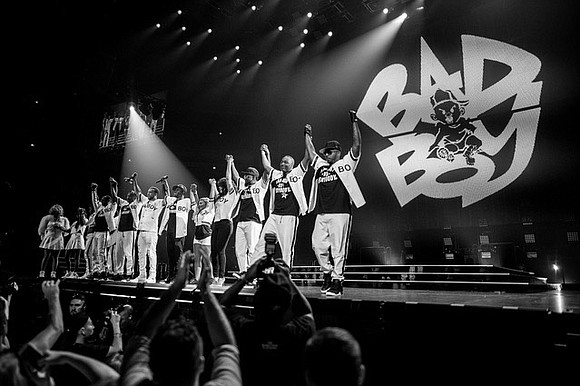 The job of a good documentary is to probe, uncover and get answers to tough questions. The job of a promotional reel is to exalt its subject. This non-fiction film lays squarely in-between. On some levels it's revealing. On others, it has as much depth as an 8" x 10" glossy.
Bad Boy Records, which started in 1993 and is still run by Sean Combs aka 'Puffy,' aka 'P. Diddy,' had a sterling roster of hip-hop and rap artists in its heyday. On the eve of a 20th Anniversary reunion performance at Brooklyn's Barclays Arena, those who are still alive, and that is a consideration, gather at a gigantic studio in the farmlands of Pennsylvania for days of rehearsals. A camera catches the choreographing, artistic stage directing and the old rivalries that still fester.
Supervising artists is a bit like herding puppies, but Combs and Laurieann Gibson, the creative director of the tour, seem to have things in hand. Faith Evans, Lil' Kim, Mase, Mary J Blige and others whose careers blossomed under Combs are feeling a rejuvenation that is contagious. As the artists, now approaching middle age, scramble to get their mojo back, and Combs bellows, "We're going to win," director/cinematographer Daniel Kaufman records their moves.
Can't call Kaufman's lens prying because little in what you see feels candid. He most often shoots in black and white, which gives the dark cavernous rehearsal studio scenes, with the misty spotlights and gray backdrops, an ominous and engrossing look. The place evokes a superheroes lair, like Captain America, Spiderman, Black Widow and Black Panther are plotting to save the world.
The common denominator for Bad Boy Records, the reunion concert and all the artists, is Combs. It is fitting in many ways that this documentary charts his life from a 12-year-old paperboy to a mogul who Forbes magazine dubs as the wealthiest hip-hop artist in the world, with $700M+ and counting.
Easy to see why his fans, and those who would like to follow his path to success, would want to know how he ascended to his throne. In many ways, the audiences gets a primer on Combs rise to fame and fortune, from his own words: "I don't want the Chrysler that looks like the Phantom (Rolls Royce), I want the Phantom." A friend also attest to his ambition: "He was the kind of kid who hung out with you, but was always thinking ahead."
As viewers watch Combs manage his artists, they will decide if he is a taskmaster, a bully, prima donna, shepherd or a motivator. Any of these words can describe the character on-screen, and which label fits him best may be more about the viewer's predisposition or interpretation than Combs himself.

The highlights of Comb's rise are on view. However the low points of his career, personal life and biggest controversies, are not on the spectrum. The one exception is the death of his buddy Biggie Smalls. Anyone looking for the truth about the riff between Tupac and Smalls will not get that question answered (the film, "All Eyez on Me," tries to depict Pac's side of the story). Regardless, Biggie's death weighs heavily on Combs, and all the artists he represents. It is Biggie's spirit that sustains them as they prep for a show that could be a monster or a bust. The Notorious B.I.G. is in their hearts.