Film Review: Can't Stop, Won't Stop: A Bad Boy Story
Dwight Brown - Film Critic | 7/13/2017, midnight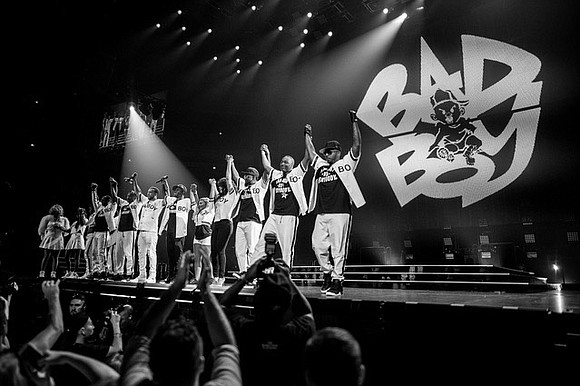 One of the most authentic moments in the film is when Faith Evans and Lil Kim, who both loved Biggie Smalls, let go of their strife and talk like sisters. Also of note is an intimate phone call to Biggie's mom by Combs when he asks her to pray for him and the show.
These touching moments almost counteract some very superficial scenes: Combs blows his nose with tissue paper that looks like dollar bills. He gets a hypodermic needle injection in his butt from a doctor and the audience is forced to see his right cheek. The camera plays peek-a-boo with him as he showers nude in a bathroom that really didn't need a camera crew. Those moments are when you feel like you are being force-fed the Kool-Aid intravenously. But you have to keep in mind that that same blinding narcissistic ego is the same spirit that drove the paperboy to become a millionaire.
The film, with fresh interviews from Andre Harrell, Blige, Jimmy Iovine and Jay-Z, and archival footage featuring Fab Five Freddy, Heavy D, President Barack Obama, Russell Simmons and Nina Simone, is rich with opportunities. You're hoping it will build to the concert that the artists have been prepping for. It does, but glimpses of the onstage extravaganza are fleeting and come during the final credits. One of the film's biggest transgressions, besides not cornering Combs and grilling him like a district attorney, is not giving the audience enough time with the actual performances to balance out all the waiting. Since Combs is listed as the film's producer, this is not an accident. This is by design.
Some of the target audience, the children of the '90s, will wish that "Can't Stop Won't Stop: A Bad Boy Story" had been a concert film featuring the legendary hip-hop artists who revolutionized the music industry. Some may be okay with 80 minutes of back-slapping, self-indulgent, self-promotional footage.

One man's promotional reel can be another's documentary.
Dwight Brown is a film critic and travel writer. As a film critic, he regularly attends international film festivals including Cannes, Sundance, Toronto and the American Black Film Festival.