Will-Grundy Medical Clinic hosting Autobahn fundraiser benefit in August
7/17/2017, 1:18 p.m.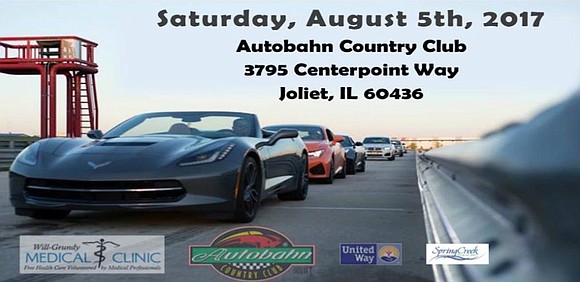 The Will-Grundy Medical Clinic will host a benefit on August 5 at the Autobahn Country Club, 3795 Centerpoint Way in Joliet.
Proceeds from the fundraiser will benefit the community medical clinic and the programs it offers for low-income residents.
The clinic provides medical support services for over 1000 patients per year as well as over 2,000 doctor-patient visits, 1,300 specialty referrals and 2,900 nurse care visits. In addition the clinic also provides about 900 prescription services each year as well.
Statistics from the clinic estimate that the services provided save about $1,200 in uncompensated care for those patients who would otherwise have to visit hospital emergency rooms for help.
A majority of the clinic's patients are female with average household earnings of just over $20,000 per year.
Tickets are $125 each which includes a chance to drive a luxury car on the Authobahn track. A VIP package for $600 includes four tickets, reserved seating and a bottle of wine.
The event runs from 5:30 to 9:30 p.m. and includes a gourmet barbecue dinner by Authobahn chef Peggy Gerdes, cash bar and live music from classic rock cover band Revival.
Lynette Doherty, Development Manager for the clinic, said that tickets are still available as well as sponsorship opportunities for the evening.
For more information contact Doherty at at 815-726-3377 x225 or ldoherty@wgmedclinic.org.