Veterans job training program a result of community partnerships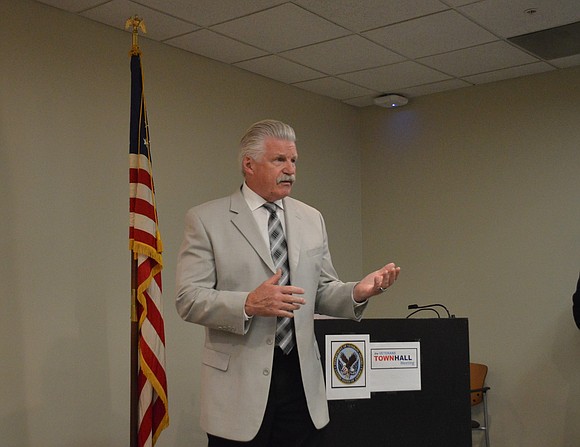 A new program in Will County will train 10 veterans for new careers in computers and information technology.
Will County Veteran's Assistance Commission director Kristina McNichol said that the new 14-week program, which will teach A+ Certification, was first proposed by Will County State's Attorney Jim Glasgow a couple of years ago.
The IT program and certification, she said, would help "make veterans more employable."
Costs for the program are being shared by the Will County State's Attorney's office which is donating $125 for each of the students' course materials with the course's instructor coming from Glasgow's IT department. Laptops for the course are being donated by Grunt Style an apparel line with offices in Carol Stream that is veteran-owned and which hires veterans for over 50% of its employee population. The course will be taught at Hines VA Community Based Outpatient Clinic in Joliet. Grants will cover the costs for two exams that students must take to receive their A+ certification.
"There is no better way to help a veteran out than to employ them," said Rob Lyday, fitness director for Grunt Style during a press conference at Hines VA hospital to announce the program.
Glasgow said that he first had the idea for the program after a computer technician in his office who is certified to teach A+ mentioned how having the credential made those with it "immediately employable in the computer industry."
The state's attorney said that the money for the program comes from drug forfeiture funds that result from high-dollar drug busts.
"I want to turn that money around and plow it back in to the community as a quickly as I can," said Glasgow. In past years the money has been used purchase buses to transport veterans to Hines and more recently for a pair of local drug-prevention programs.
He said that once the 14-week class is complete the first class of graduates will find that "they'll be in demand" from employers and that "there'll be companies seeking them out."
Hines VA Hospital Director Dr. Steven Braverman said that its strong partnerships with local units of government and their agencies as well as private enterprises "that enables these kinds of programs" and gives veterans the "tools, opportunities, and training to be able to get a job."
He said that giving vets the tools to maintain a home, to work, to put food on the table, to pursue education and to receive medical care also help with the VA's overarching goals to prevent veteran suicides.
"But we can only does those things with our partners in the community," said Braverman.
Photo caption: Will County State's Attorney Jim Glasgow unveiled the details of his veteran's computer training program at Hines VA hospital in Joliet this week. (photo by Brock A. Stein)