Benches Replaced Along Old Plank Road Trail
7/26/2017, 3:02 p.m.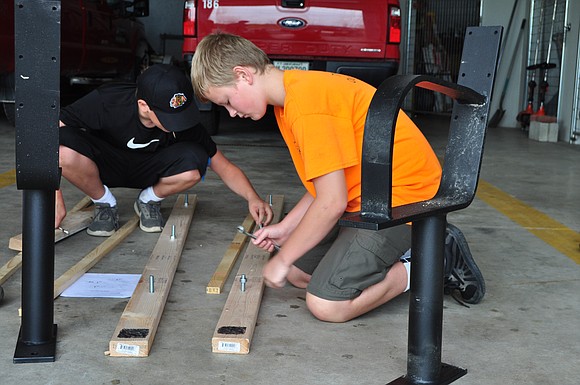 A team of volunteers led by a New Lenox Boy Scout spent the weekend installing 10 new benches along the Forest Preserve District of Will County's Old Plank Road Trail.
The new benches are compliant with the Americans with Disabilities Act. Many of the old benches were not, which is one of the reasons they were removed and replaced. The old benches also had deteriorated and not all of them had concrete pads that were in good shape.
Boy Scout Brendan Hawkins tackled the project as part of his quest to become an Eagle Scout. Hawkins, 13, who attends Liberty Junior High School, had the assistance of fellow Scouts from Troop 49, friends and family members. He supervised the project and was responsible for organizing the work schedule and lining up food and water donations, including the $500 needed to have a plaque placed on one of the benches to mark the Troop's involvement with the project.
The benches were assembled Saturday, July 22, and installed Sunday, July 23, along the trail from Harlem Avenue in Frankfort west to Park Road in Joliet Township.
Hawkins said the project appealed to him because it makes traveling along the trail easier.
"I was happy to do something constructive that would help the community," he said. "If people get tired, then they can sit and rest."
Hawkins said he would like to become an Eagle Scout because his dad, Andrew Hawkins, the Forest Preserve's director of planning and development, attained the same Scouting rank when he was a teen.
"I thought it would be cool," Brendan Hawkins said. "Eagle Scouts are leaders, they're respected and it's an accomplishment."
Renee Gauchat, the Forest Preserve's volunteer supervisor, lauded Brendan Hawkins' leadership skills and all of the volunteers' efforts. She said the bench replacement work will have a lasting impact for years to come.
"The project will benefit the District because people can sit and rest on the benches and, as a result, they are more likely to return to the trail," she said.
Photo: New Lenox Boy Scout Brendan Hawkins works with fellow volunteers Saturday to assemble a bench during a weekend project to install 10 new benches along the Old Plank Road Trail. The benches were placed from Frankfort west to Joliet Township.