Leading Lockport to laughter
Family-friendly improv and sketch comedy troupe performs at Dellwood Block Party.
7/26/2017, midnight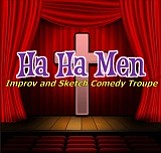 Lockport - Ha Ha Men, founded in 2013, focuses on clean, engaging, family-friendly comedy that unites people in laughter. Specializing in improv games similar to those seen on hit television show Whose Line is it Anyway?, the comedy team will provide a fun, energetic, and interactive show during the afternoon's events.
The Dellwood Block Party is a free event that will be held in historic Dellwood Park in Lockport, Ill, from 1 p.m. to 6 p.m., Saturday, Sept. 16. The Dellwood Block Party is sponsored by local churches and businesses to help bring the community together for entertainment, music, and activities.
"We love that we were invited back to be a part of this community event," said Dave Ebert, co-founder of the group. "Laughter is such an amazing way to bring people together. It shows that there are far more things we have in common than there are differences."
"Who wouldn't want to be a part of bringing communities together when so much of the world wants to keep us all separated?"
The Dellwood Block Party will begin with activities for kids at 1 p.m., with the programming beginning at 2:30 p.m. Music and dance will fill the afternoon from the bandshell. Ha Ha Men will take the stage at 4:30 p.m. After the comedy show, the headliner Renew Movement will close out the event.
For more information on the Dellwood Block Party, including how to become a sponsor of this free event, visit thesozogroup.org/block-party-17/.
Dave Ebert and Ha Ha Men Improv: Dave Ebert and Ryan McChesney founded Ha Ha Men in August 2013, and have worked to provide clean, family friendly improv comedy and sketches. The purpose of Ha Ha Men is to honor God with the members' talents and aspirations. Find out more on Ha Ha Men at www.HaHaMen.org or on social media @HaHaMenImprov.