Romeoville Aldi re-opens with new look, more space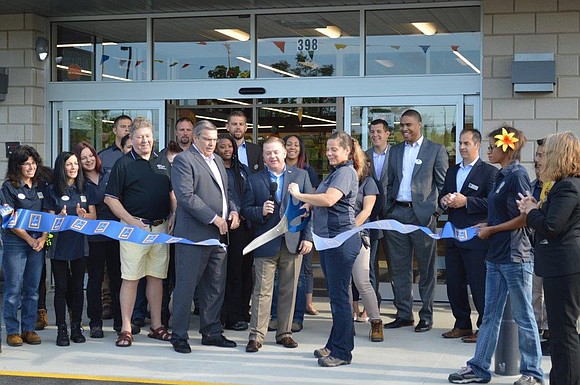 Verna Lazzara was in line well before the Aldi store at 398 Weber Road in Romeoville was set to re-open at 9 a.m. on Friday. The former Lombard resident said she moved to the village three years ago and brought her love of shopping at the grocery chain.
"When you're retired you want to save as much as possible," said Lazzara who wasn't alone as a line snaked along the building and just out of view of the front entrance as more and more people arrived looking for a chance to score some freebies and maybe a $100 golden ticket gift card as well.
Just ahead of her in line, Lucrecia Sian was also waiting for the doors to open. She said that she first started shopping at the store when it opened eight years ago and likes the selection of "good quality" products and the easy-on-the-pocketbook prices.
"I prefer it to Wal Mart," she said.
The grand re-opening at the Romeoville store is the latest in the nationwide grocer's rollout of remodeled stores that feature larger retail space footprints and a larger selection of products as well. The new stores also feature airier entrances and a more modern look.
In total, the grocery retailer plans to invest about $180 million to remodel more than 130 stores in the Chicagoland market by 2020. That's part of a larger, nationwide plan to overhaul 1,300 of its U.S. stores with a total investment of around $1.6 billion.
The new stores will accommodate more fresh produce items, as well as expanded selections of dairy and bakery items and wider aisles for customers.
They'll also include open ceilings, natural lighting and environmentally-friendly building materials such as recycled materials, energy-saving refrigeration and LED lighting according to a company news release.
Romeoville Mayor John Noak said that he's been an Aldi shopper long before he could drive or hold public office. He said that his mom used to drive from Frankfort to a store in Chicago Heights to shop and is glad to see the company getting support from shoppers in the Romeoville community.
"We're excited to see the reinvestment here," said Noak who presided over the ribbon cutting.
Perhaps no one was more excited than Romeoville resident Pat Massett who received the $100 golden ticket gift card. As it turns out, it was her second time winning the top prize after she also scored a $100 card at the Plainfield store's grand reopening last fall.
Massett said that she likes the stores for the easy to reach items and their prices.
She also said that she's going to try for a 'three-peat' of her win and will be in line next week at the grand-reopening of the Lockport store on S. Farrell Road.