Beer enthusiast 'Firkin Fest' coming in September
6/12/2017, 9:47 a.m.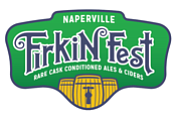 Illinois craft beer enthusiasts will have something new to look forward to this fall with the first-ever Naperville Firkin Fest which will take place Saturday, September 9, from 3:00 p.m. – 6:30 p.m. at the City Gate Centre.
Plainfield's own Werk Force Brewing will take part in the inaugural event which will feature 30+ one-of-a-kind Firkins from breweries around Illinois and the Midwest.
Derived from the Dutch word, Firkin refers to small barrel brewing of beer that has not been processed and gains its carbonation through the process fermentation of the yeast in the recipe. While many Firkins stick to the more traditional English Style of brew, others experiment with much more inventive ingredients like hibiscus petals, pie crusts or coffee.
The festival will include rare, unique, and small batch brews from breweries all around the Midwest.
Tickets for a special "early-bird" rate of $40 are available for a limited time. Craft connoisseurs can also purchase a $65 Gold Pass VIP ticket that includes early admission into the event, priority beer tasting for rare brews, a commemorative glass and a merchandise voucher.
In addition to incredible beer, the event will offer delicious eats and live entertainment by Zydeco Voodoo and more!
The beer fest will benefit Project Help, a Naperville-based mission organization committed to improving the lives of children and families.
To purchase tickets or for more information visit the event page napervillefirkinfest.com Or download the My BrewFest app for iOS or Android.