Blacks face higher rates of discipline in the military
The Air Force has the worst record
Frederick H. Lowe | 6/13/2017, midnight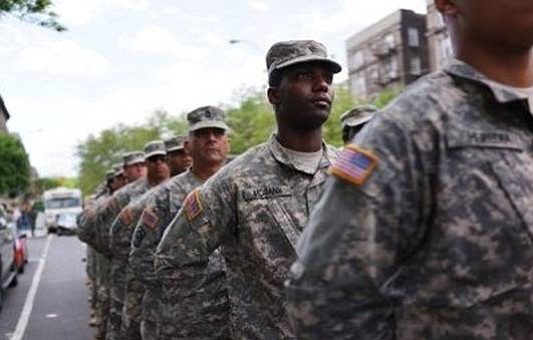 Blacks serving in the four branches of the military are disciplined at much higher rates than whites with the disciplining of blacks in the Air Force being sky high, according to a report released Wednesday.
In its report, "Racial Disparity in Military Justice:
Findings of Substantial and Persistent Racial Disparities within the United States Military Justice System," Protect Our Defenders, the study's author, reported that it found significant racial disparity in the military justice system. The report mirrors many of the hostile challenges black men face everyday in civilian life.
Protect Our Defenders (POD), which has offices in Burlingame, Calif., and Washington, D.C., reached its conclusions based on a Freedom of Information Act (FOIA) request it submitted last year to each military service branch. The Air Force, Army, Navy and Marines responded but the Coast Guard did not because it did not have the requested data.
"For every year reported and across all branches, black service members were substantially more likely to than white service members to face military justice or disciplinary action," stated POD, a 501 c (3) human rights organization. Protect Our Defenders analyzed previously unpublished data from the Army, Air Force, Marines and Navy to access the prevalence of racial and ethnic disparities within the military justice system. POD found that these racial disparities have not improved, and in some cases have gotten worse.
The study reported that black service members were at least 1.29 times and as much as 2.61 times more likely than white service members to have an action taken against them in an average year.
 In the Air Force from 2006 to 2015, black airmen on average were 71% more likely to face court martial and non-judicial punishment (NJP) than white airmen.
 In the Marine Corps from 2006 to 2015, black Marines are, on average, 32% more likely to receive a guilty finding at a court-martial or NJP proceeding than white Marines, with the size of the disparity becoming more significant than the disciplinary action was.
 In the Navy from 2014 to 2015, black sailors are on average 40% more likely than white sailors to be referred to special or general court-martial.
 In the Army from 2006 to 2015, black soldiers are on average 6.1% are more likely to face a special or general court-martial compared with white service members.
With its report, Protect Our Defenders has called on Congress to investigate the findings and take action to correct the problem.
"Military leadership has been aware of significant racial disparity in its justice process for years and has made no apparent effort to find the cause of the disparity or to remedy it," said Retired Air Force Col. Don Christensen, president of Protect Our Defenders. He is former chief prosecutor for the Air Force. "Top brass also has vigorously opposed any suggestion that the commander-controlled justice system is hindered by conflicts of interest or bias and has gone to great lengths to tout the fairness of the system," Christensen said.
Pentagon spokesman Johnny Michael said the Defense Department has had a long-standing policy that service members must be afforded the opportunity to serve in an environment free from unlawful discrimination.
"The department will review," he added, "any new information concerning implementation of and compliance with this policy once given the opportunity to review the report."
Black men historically have had a complicated relationship with the military. For men of my father's generation, the service offered them a chance to earn a decent wage, travel, learn a skill and improve their lives but at the same time, stories were rampant concerning racism in the military.