Double Cheddar Stuffed BBQ Turkey Burgers
6/13/2017, 11 a.m.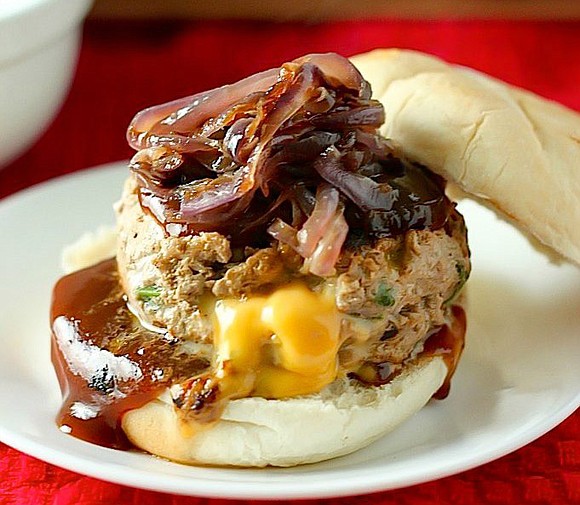 SERVES: 4
Ingredients
• For the onions:
• 1 large red onion
• 2 tablespoons olive oil
• 1 teaspoon salt
• 1 teaspoon sugar
• For the turkey burgers:
• 1 pound lean ground turkey
• 1/2 cup baby spinach leaves, finely chopped
• 1 large egg
• 1 tablespoon Kraft Brand BBQ sauce plus more for drizzling
• 1 teaspoon salt
• 1/2 teaspoon ground black pepper
• 4 slices Cheddar Cheese, each slice cut into 4 (like a square)
• 4 slices Kraft VELVEETA cheese slices, each slice cut into 4 (like a square)
• 4 hamburger buns
DIRECTIONS:
1 For the onions:
2 Place 2 tablespoons of oil in a large skillet over medium heat. Add onions and cook, stirring occasionally, for 20 minutes, or until softened and slightly caramelized. Add salt and sugar and cook for another 10 minutes. Remove pan from heat and set aside.
3 For the burgers:
4 Place ground turkey meat, chopped spinach, egg, bbq sauce, salt and pepper in a large bowl. Mix (using your hands or a large, strong spatula) until well combined. Divide meat into 4 even balls, then remove a small golf ball sized chunk from each patty. Roll the larger balls of meat into even patties, then press 4 squares of the cheddar cheese on top of 4 squares of the VELVEETA cheese. Press the cheese stack into the center of the large patty, then top the cheese with the golf ball sized meat ball, pressing it down and sealing the cheese in.
5 Heat a large skillet or grill over medium-high flame. Add oil or butter to the skillet, if using, then add the patties. Cook for about 5 minutes per side for a medium cooked burger.
Place burger on bun, and top with onions and bbq sauce. Serve at once.