Joliet Slammers giving away prison replicas at July 12 all-star game
6/14/2017, 8:53 a.m.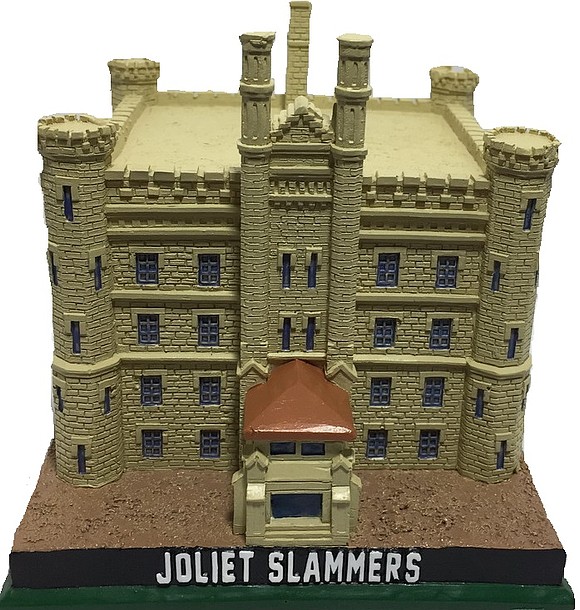 Joliet— The Joliet Slammers will be giving away replicas of the former Joliet prison to the first 1,000 fans through the gate on Wednesday, July 12 as part of the 2017 All-Star Game.
The giveaway is made possible by the City of Joliet and Joliet Area Historical Museum.
"The old Joliet Prison is an iconic structure that has international recognition from its depiction in the Blues Brothers and other movies," said Steve Jones, Deputy City Manager and Economic Development Director for the city.
"We could not think of a better giveaway for the many visitors who will come to the community to enjoy the All-Star game events."
Gates open to fans at 6:05 pm on July 12 and the game is set to start at 7:05 pm.
Events for the All-Star Game begin on Monday, July 10 with a downtown Joliet All-Star parade that will feature 60 all-stars including those from Joliet. The Slammers are now accepting parade entries from Joliet area businesses and organizations. Registration forms can be found at jolietslammers.com.
On Tuesday, July 11 the Slammers will host the Commissioner's Golf Outing at Mistwood Golf Club in Romeoville. That evening, Illinois Hops on 66 Beerfest will take place at the Slammers stadium from 6-9 p.m. in conjunction with a home run derby presented by MK Orthopaedics.
The 2017 Frontier League Hall of Fame induction ceremony and luncheon will take place at noon on Wednesday, July 12 at the Grand Ballroom in Joliet Union Station. Former Chicago Cub Bobby Dernier will be the guest speaker and will be signing autographs following the luncheon.
Tickets to all All-Star events can be purchased by visiting jolietslammers.com or by calling the Box Office at 815-722-2287.