Men and Health: How to be more proactive not reactive about your health?
6/21/2017, 3:16 p.m.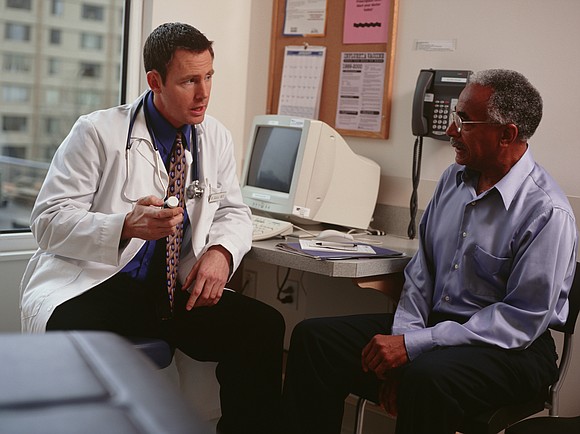 The timesweekly.com
Dr. Jennifer Byrd, Chief Medical Officer at the Will County Health Department Community Health Center, says the answer is a definite "Yes." Men continue to be hesitant to go to the doctor. During this Men's Health Month, Dr. Byrd says the old stereotype of a man just shrugging things off and saying "I'm fine" still applies quite often.
"It's still just as much of a problem," Dr. Byrd confirmed. "At our Community Health Center, about 65% of our patients are women. Men tend to come when they are either forced to by an acute illness or somehow coerced into coming by a partner. Men still need to understand more about 'preventing.'"
Will County Health Department epidemiologist Dr. Alpesh Patel agrees that men still need a push when it comes to both visiting their doctors and improving their daily lifestyles.

"It's still very typical for men to be somewhat laid back when it comes to preventative and routine care," Dr. Patel said. "Men tend to finally seek help when they can no longer function as they did before, or simply can no longer tolerate something. But it's better to have regular check-ups on things like your blood pressure and cholesterol levels, so that you can investigate any early warnings that come along."
And when it comes to men seeing the doctor on a regular basis to prevent the onset for acute illnesses, two of the major concerns continue to be heart disease and prostate cancer.

The Center for Disease Control and Prevention says that 49 percent of all Americans have at least one of the three major risk factors: high blood pressure, high LDL cholesterol, and smoking. Other conditions and lifestyle choices that can lead to heart disease include diabetes, obesity, poor diet, physical inactivity, and excessive alcohol use. It is important for men to realize that especially if they have any of these symptoms, regular doctor visits are even more important.
In addition to those regular doctor visits, it is also important to remember that simply getting started is the key. For example, becoming more physically active is not a matter of copying something you see on television. "There is no age where it's too late to begin, "Dr. Patel said. "This is not about rigorous activity or going crazy. You need to start gradually, and do what your body can tolerate."
While those previously mentioned warning signs for heart disease are usually quite visible or obvious, warning signs for prostate cancer are not. The Center for Disease control states that "most prostate cancers grow slowly, and do not cause any health problems in men who have them. This is why most prostate cancers found by screening are small, slow growth, and not producing symptoms at the time they are found."
"You must know your family history when it comes to colon and prostate cancer," Dr. Patel advises. "Then, your doctor will know if you need more frequent screenings."
More information concerning the importance of screening for prostate cancer can be found in a video created by Info4YourLife, at https://www.youtube.com/watch?v=syYZWzE3uak&feature=youtu.be.