No new developments as group holds silent vigil for Semaj Crosby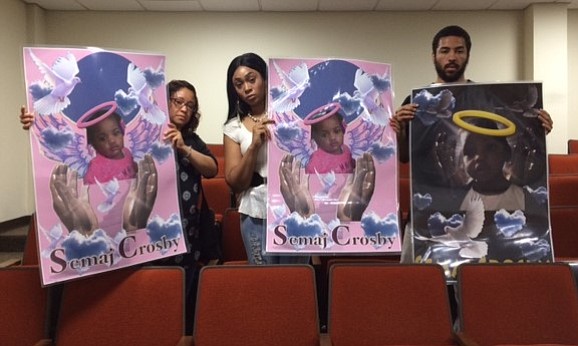 There have been few new developments in the case of a 17-month old Joliet toddler who was found dead in her home in April.
That's according to Kathy Hoffmeyer, a spokesperson for the Will County Sheriff's office on Tuesday said to The Times Weekly that the law enforcement agency has "nothing new to report."
That lack of forward movement in the case has been frustrating for the family of Semaj Crosby whose godparents Latoya Robinson and Dontraven Perkins sat in the observation gallery during the recent Will County Board meeting holding up posters of the deceased toddler. They said it was a way to remind officials working on the case to keep working toward a conviction for her killer.
Crosby was reported missing from her Louis Rd. home in Joliet Township on April 25. Following a community-wide effort to find the missing toddler, police searched her home where they found her lifeless body under a couch on April 27. So far, no person of interest or suspect has been charged.
Robinson said that she was at the meeting to ensure that "those who were responsible go to prison" and to "see them pay."
Simply stated, she said, she wanted "justice" for Semaj.
Robinson and Perkins were joined in the gallery by Joliet resident Mireya Reyes who said that she was there to ensure that Semaj wasn't another child "who fell through the cracks of DCFS" of which there are "too many."
"Don't forget Semaj," said Reyes, who said that the Crosby case reminded her of a similar child, Manny Aguilar, who was found dead in a building in Chicago under similar circumstances.
Will County Board member Herb Brooks, said that Crosby lived in his district and that her death was a wakeup call to the community at large.

"Because of the untimely death of this baby not only were the City of Joliet's eyes opened but also those of Will County and the State of Illinois," said Brooks who noted that the presence of the silent vigil and photos of Semaj said more than if they had addressed the county board during public comments.
"Even though during the comment period they did not have anything to say their presence here does speak volumes."