Troy Schools working on bond refinance plan
6/23/2017, noon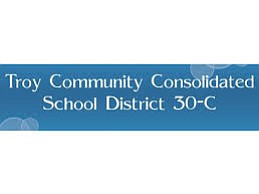 The Troy CCSD 30-C Board of Education is actively working to manage the debt of the District, and to reduce taxpayers' burden. Two bond series were successfully refinanced to achieve over $3,000,000 in present value savings. This means less interest is being paid on $26,505,000 in bond debt.
At the May 17th board meeting, the Board approved the bond refinancing plan. Board President Mark Griglione was present at the completion of the bond sale on June 13th. Three components contributed to the successful refinancing: The structure of the refinancing, the favorable bond market, and the strong credit rating (Aa2) of Troy.

Tammie Beckwith Schallmo, Managing Director with PMA Securities, Inc. said the timing of the bond sale worked perfectly with the bond market. The District received 38 bids on the bonds, while the average bond sale receives 15-25 bids.

The refunding provide a level debt service structure and taxpayers will see a reduction in actual debt service of just under $2,000,000 in the 2026 Levy Year.
"This is a win for the District and the community" said Dr. Todd Koehl. Superintendent.

"It allows more funding for day-to-day operations, and with the issues is Springfield, this is great for future budgeting," he said, thanking the board for taking a proactive stance with the funding.