Ninth Annual 'Men Who Cook' culinary competition
3/1/2017, noon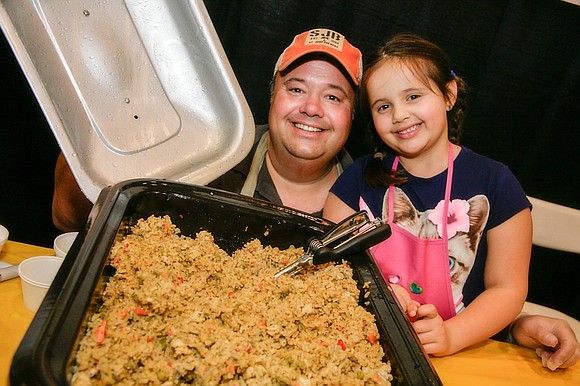 The pressure is on for 50 local amateur chefs who are planning menus and plotting strategies for the Ninth Annual "Men Who Cook" culinary competition to benefit the Will County Children's Advocacy Center.
New cooks and returning favorite chefs will whet the crowd's appetites with bite-sized morsels of their favorite dishes. Come hungry and be prepared to sample the widest variety of entrees, appetizers, side dishes, and desserts in the most anticipated cooking contest in Will County.
The event will be held from 6-9 p.m. on Saturday, March 25 at the Pipefitters Training Center, 10850 187th Street in Mokena.
After sampling the fine cuisine, guests will be asked to vote for their favorite dishes in each of four categories: appetizers; side dishes; entrées; and desserts.
Returning Chef Bob Fox of Omega Plumbing is fine-tuning his recipe for this year's contest in the hopes of winning his category. Last year, Fox served guests Cuban Arroz Con Pollo, or Cuban Chicken and Rice. This year, he said he's upping his game by preparing Beef Medallions in a Beer Reduction Demi-Glace.
"It's a phenomenal experience," Fox said. "Obviously it's for a very good cause, but it's also a great time."
The competition helps raise funds for the Children's Advocacy Center which serves to protect and heal sexually abused children and hold their abusers accountable.
Last year's "Men Who Cook" drew 750 attendees and raised more than $76,000 for the Children's Advocacy Center.
The cost for "Men Who Cook" is $40 per person; $75 per couple. The price is $10 for children between 6 and 12; kids 5 and under can attend for free. And of course, there's no need to dress up for this casual, fun and affordable event.
"We can never guess who will go home with the winning ribbons. But we know for certain our guests won't leave hungry," State's Attorney Glasgow said.
Tickets for "Men Who Cook" are available online at menwhocook.info or they can be purchased at the door. For additional information, call the Will County Children's Advocacy Center at (815) 774-4565. Or visit on the Web at menwhocook.info or on Facebook at facebook.com/willcountycac.