State Rep. Guzzardi talks tuition-free public college at University of St. Francis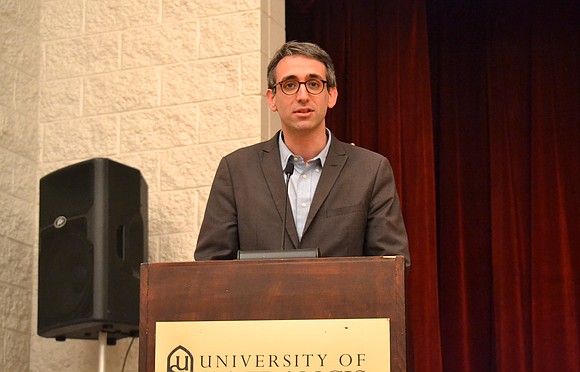 JOLIET - State Rep. Will Guzzardi (Chicago) is taking his plan for a bill to make junior colleges and public universities in Illinois tuition-free all over the state, including in Will County.
He was in Joliet on Monday night at the University of St. Francis to speak to a crowd of mostly college students, including the USF Democrats, to explain the plan and answer questions.
Guzzardi pointed out the rising costs of state universities. For instance, four years of in-state tuition at the University of Illinois at Urbana-Champaign is now about $63,000. Costs like that have resulted in almost $50 billion in student loan debt for the state of Illinois. Other state universities have seen declines in enrollment and growing numbers of Illinois high school seniors are electing to go out of state for more affordable deals. This is why Guzzardi said the state would need to come up with about $2 billion in new revenue to fund the bill, which is currently being drafted.
"Imagine what that would do to enrollment at our institutions," Guzzardi said. "If I'm weighing the decision of if I want my kid to go to Southern Illinois (University) or go to the University of Missouri, having free in-state tuition weighs very heavily in that decision."
He added that other potential benefits include drawing more people to the state so they or their children could benefit from free in-state tuition. And lower costs of public colleges might force private colleges to keep costs low to remain competitive for students.
So how does he plan to pay for it? Guzzardi presented three main options.
Option #1: Fair Income Tax
Guzzardi is in favor of a progressive income tax for the state of Illinois which shifts the burden of higher taxes on the richest residents. Currently, Illinois has a flat individual income tax of 3.75 percent and efforts to raise that rate have stalled since it would require raising the tax rate for all residents. But he says Illinois should scrap the flat rate and tax the rich at a higher rate.
"It's not fair," Guzzardi said. "The overwhelming majority of new wealth in this country is not being equitably distributed. It's being held in the hands of people at the very top."
Option #2: Transaction Tax
A transaction tax, or as Guzzardi described it, a "Robin Hood Tax" is a small excise tax on trades of stocks, bonds, derivatives and other trading on exchanges, which are currently exempt from sales taxes. A recent bill that's been debated in the state legislature would impose a tax of "$1 per contract for all transactions for which the underlying asset is an agricultural product and $2 per contract for all other contracts." Guzzardi said it could raise up to $10 billion a year in new revenue.
Option #3: Millionaire's Surcharge
Guzzardi also highlighted a 3 percent surcharge on residents making over $1 million, which is estimated to raise about $1 billion annually for schools. In 2014, Illinois residents voted to pass the referendum for a millionaire surcharge, but a bill has stalled in the House.
Guzzardi argued that the state of Illinois is not broke. In fact, Illinois is the fifth largest gross domestic product of the 50 states. He says that the money is there, but the state government has not tapped into it.
In a time when Democrats nationwide have the least amount of political power they've had in decades, Guzzardi feels it is not enough to be fighting Republican pushes for legislation. He also wants to find a more proactive agenda for pushing progressive policies.
"We are under threat in so many ways, so how do we respond to that?" he said. "I think that we got to not just be playing defense."
USF Democrats President Grayson Barnette emphasized that becoming informed and pushing issues like tuition-free public colleges is exactly what young progressives need to do to hold their representatives accountable.
"We're asking the hard questions and the politicians have to give us an answer," Barnette said. "Whenever we ask a question, we demand a response."