H.S. Boy's Basketball: Joliet West, Joliet Central and Bolingbrook advance to sectionals
Alex Ortiz | 3/3/2017, 9:53 p.m.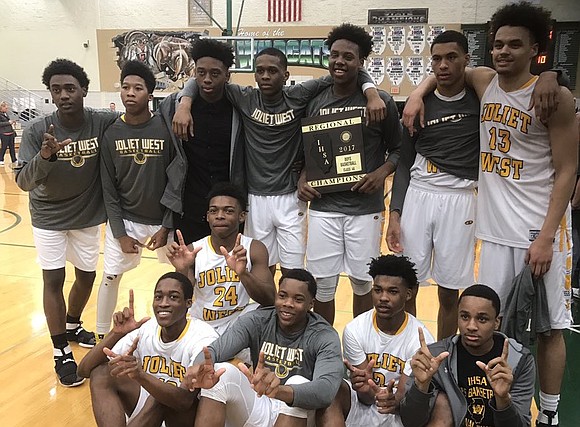 The top three teams in the area punched their tickets to the next round of the IHSA boy's basketball playoffs.
Joliet West 72, Romeoville 44
The Spartans did not give the 2nd seed Tigers of West as much of a run for their money as they did in the teams' last meeting on January 27 in Romeoville. The young Spartans came within three points of winning that first game, but were never really in reach down the stretch of this rematch.
The two big guns for the Tigers, Teyvion Kirk and Trepan Bell, scored 21 and 16 points respectively to lead their team.
Joliet Central 59, Lincoln-Way East 49
Central also earned its second-straight regional title as the Steelmen knocked off the Griffins. Senior guards Jose Grubbs led his team with 17 points and Jomarre McNair had 10.
Joliet West and Joliet Central will face off in the sectional semifinal game on Wednesday March 8 at 7 p.m. at Lincoln-Way East high school.
Bolingbrook 63, Lemont 54
In the Orland Park (Sandburg) Regional Final, the top-seeded Raiders were in a close match with Lemont as the two teams were tied 27-27 at halftime. But Bolingbrook was able to take it home late with the victory.
Bolingbrook will play West Aurora, which won over Neuqua Valley in its game on Friday, in the sectional semifinals. The game will be on Tuesday, March 7, at 7 p.m. at Lincoln-Way East.
You can see the rest of the playoff brackets here.