Bolingbrook First party to host "The World in Bolingbrook" event to celebrate diversity
Alex Ortiz | 3/4/2017, 12:11 p.m.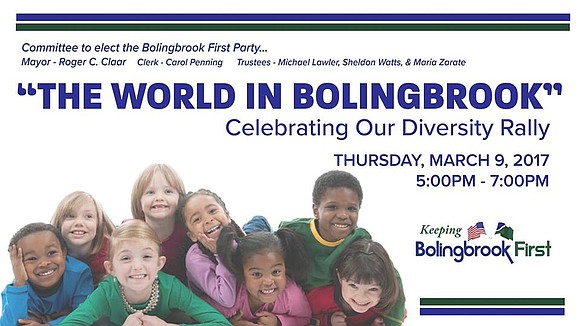 The Bolingbrook First ticket, will be hosting a rally called "The World in Bolingbrook" to celebrate the village's diversity. The event will be held on Thursday, March 9 from 5 to 7 p.m. at the Hilton Garden Inn.
Tickets cost $5 per person, $10 per couple, $15 per family and kids under 12 and seniors over 65 enter free. Food stations will include Asian, Mexican, Soul, Pakistani and traditional American.
You can RSVP here and find more information on the Facebook event page.
You can also email the Bolingbrook First party at info@bbfirst.com.