Metropolitan Youth Symphony to feature The Sorcerer's Apprentice concerts
3/7/2017, 9 a.m.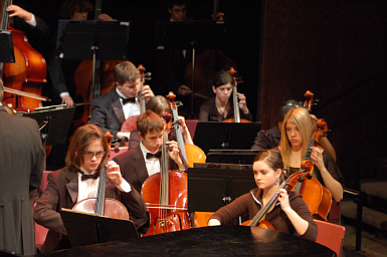 The Metropolitan Youth Symphony Orchestra will perform two concerts in March. The first performance is free and begins at 7:30 p.m. March 15 at the St. Charles Borromeo Convocation Hall on the Romeoville campus of Lewis University. The program will be repeated at 4 p.m. March 19 in the Fine Arts Auditorium at Joliet Junior College. Admission is $10 at the door for the JJC performance.
Dr. Lawrence Sisk, professor of music at Lewis University, will conduct the orchestra in a program that includes Paul Dukas's The Sorcerer's Apprentice, Rimsky-Korsakov's Procession of the Princes from Mlada, Ippolitov-Ivanov's Procession of the Sardar from Caucasian Sketches, and selections from Grieg's Peer Gynt.
The orchestra will also perform JEST by Roydon Tse, the winner of the 2017 Student Composition Contest. MYSO received over 70 student submissions, with entries from all around the world--from Illinois and Canada to Italy and Norway. Tse is a rising composer of symphonic, chamber and vocal works, and his music has been performed internationally including in Australia, China, Portugal, Canada, and the U.S.
Founded in 1959 the Metropolitan Youth Symphony Orchestra has resided in Will County since 1991. Players in MYSO come from Lewis University and Joliet Junior College, and from area high schools and middle schools. Maestro Sisk is celebrating 25 years as Music Director of MYSO.
MYSO rehearses every Wednesday evening that school is in session from 6-8:30 p.m. at Lewis University. For more concert and audition information, visit www.mysomusic.org.