Trinity Services' Horticulture Spring Sale to begin May 5
Order forms available now
3/7/2017, noon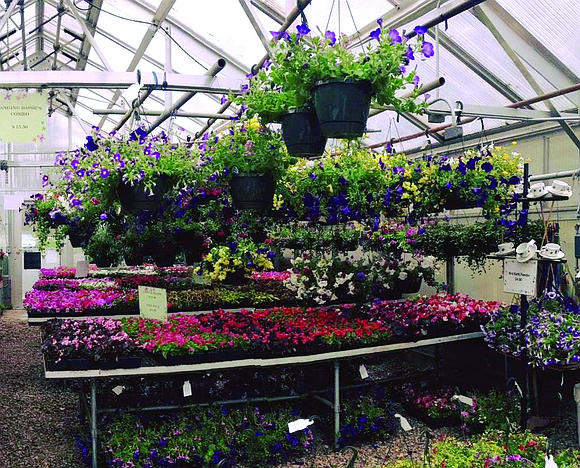 Trinity Services' Horticulture Program is spending the final weeks of the winter looking ahead to spring. Program participants are getting ready for the annual Spring Sale, set to kick off Friday, May 5, at the greenhouse, 100 N. Gougar Road in Joliet.
The men and women who participate in the program are working on growing and preparing spring flowers, plants, vegetables, grasses and herbs. Some of the highlights of this season's sale are marigolds, verbenas, impatiens, petunias, needle point ivy, peppers, cucumbers, tomatoes and more.
Flowers are available in cells, for $2 each, or flats, for $14 each. Baskets range from $14-$17, and planters range from $18-$26. All herbs are on sale for $3. Grasses range from $4-$7.50, and individual plants are either $3 or $4 each.
Pre-sale order forms are available now at www.TrinityGreenhouse.com. All proceeds benefit the men, women and children with developmental disabilities and mental illness who Trinity supports.
Beginning May 5, members of the public can visit the greenhouse between 8 a.m.-4 p.m. Monday-Friday to purchase flowers and plants onsite.
Those who would like to set up a time outside of regular business hours to shop the program's available items can contact the Horticulture Program directly at (815) 485-8146.
The Horticulture Program is an Adult Learning Program operated by Trinity Services, Inc. All proceeds from sales benefit the people served by Trinity, a 67-year-old, nonsectarian, nonprofit organization dedicated to helping children and adults with developmental disabilities and mental illness flourish and live full and abundant lives. Trinity serves more than 3,500 people in 31 communities in Will, Cook, DuPage, Grundy, Peoria, Jackson, Madison and St. Clair counties, and Reno, Nevada. To learn more, visit www.trinity-services.org.