Joliet West High School Black History Month "A Journey through time"
3/8/2017, 2:47 p.m.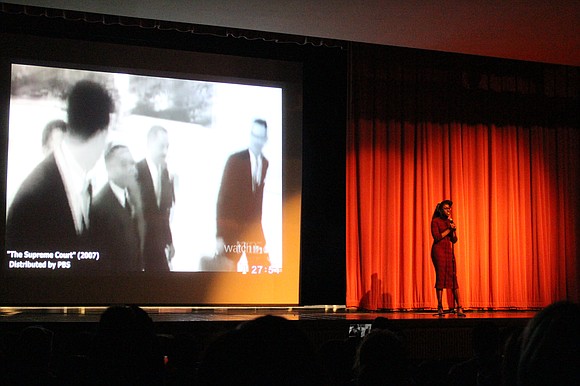 On February 24th, 2017, Joliet West High School's Multicultural Club presented a beautiful and thought-provoking show titled "A Journey Through Time" to celebrate Black History Month and showcase the talents of local students in the Joliet West High School Auditorium. Mrs. Cassie Crim, a math teacher at Joliet West, organized the Black History Month to showcase Black History from past to present.
Student Bryson Booker was responsible for the sound system, while Marshanea Morris and Rosilanda Ruiz worked on the lights for the show. The stage production team consisted of Amya Lamb, Daisy Mireles, Jasmine Carrillo, and Chloe Miller. The show began with a powerful rendition of Billie Holiday's "Strange Fruit", performed beautifully by Kearra Stevens. It is considered to be one of the first significant songs of the civil rights movement. Michael Key read a compelling excerpt from Richard Wright's novel, Native Son. The novel tells the story of 20-year-old Bigger Thomas, an African-American youth living in utter poverty in a poor area on Chicago's South Side in the 1930s.
Terry George presented poetry by Langston Hughes, a famous literary leader of the Harlem Renaissance in New York City. Tyra Holland also shared the wonders poetry by author, poet and civil rights activist Maya Angelou. In memory of Martin Luther King Jr., Keenan Linder performed "I Have a Dream" and Diasiia sang "Glory" in the background. Diasiia Jackson passionately sang Sam Cooke's "A Change is Gonna Come", a song selected for preservation in the Library of Congress for its cultural and historical significance.
Aliceson McNair sang a fantastic tribute to Mahalia Jackson, the "Queen of Gospel" who had played an important role during the civil rights movement hoping to inspire unity through her music. Saxophonist John Perella and Drummer Joseph Diaz played a compilation of music by saxophonist Clarence Clemons, who was posthumously inducted in the Rock and Roll Hall of Fame for his musical brilliance as part of the E Street Band.
Keandra Tucker demonstrated her vocal range and ability through a delightful rendition of "Black Butterfly", a song made popular by Deniece Williams in her 1984 album Let's Hear it for the Boy.
Violinist Jada Brand and Viola-player Jaelyn Robinson entertained audiences by performing classical interpretations of pop music. Mikeya Stephen awed the audience with her performance of Beyonce's "Freedom" from Lemonade.
Every performer and audience member concluded the performance by singing "We are the
World" together as the audience waved their phone flashlights in harmony. After the show, Joliet West High School math teacher Mrs. Cassie Crim proudly said, "The black history show was amazing! Thank you to the students for making my vision blossom! You guys are so talented! JWHS needs that love and unity!"