Spicy Chicken Burgers with Guacamole, Cheddar, and Pickled Onions
3/8/2017, 11 a.m.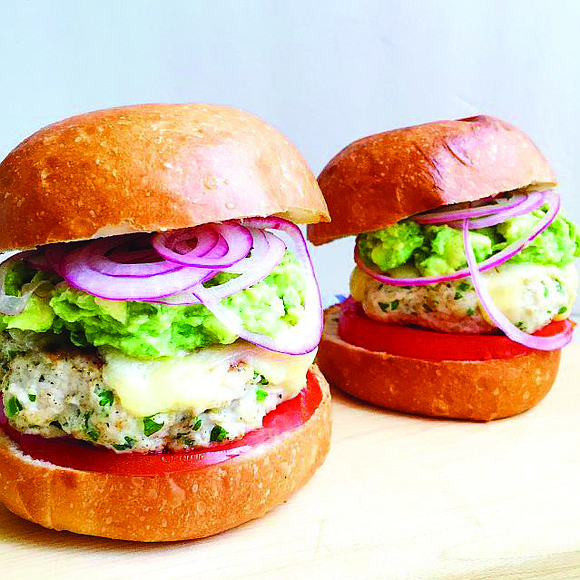 SERVINGS: 4
INGREDIENTS
1/2 red onion, thinly sliced into rounds
1/4 c. red wine vinegar
2 avocados, diced
1/2 c. freshly chopped cilantro, divided
3 tbsp. lime juice
kosher salt
Freshly ground black pepper
1 lb. ground chicken
1 clove garlic, minced
2 tsp. cumin
1/4 tsp. cayenne
1/2 jalapeño, seeded and minced (2 tbsp.)
1 tbsp. extra-virgin olive oil
2 oz. white cheddar, thinly sliced
4 brioche buns, lightly toasted
1 tomato, sliced
DIRECTIONS
In small bowl, combine red onions and red wine vinegar. Let sit 15 minutes (or until burgers are ready); drain vinegar.
In a medium bowl, combine avocados, 3 tablespoons cilantro, and lime juice with a fork, mashing lightly to make a chunky mixture. Season with salt and pepper.
In another medium bowl, combine chicken, garlic, cumin, cayenne, jalapeño, and the remaining cilantro. Season with salt and pepper. Shape mixture into 4 patties.
Preheat a broiler to high. Brush an ovenproof nonstick skillet with olive oil and sear patties until golden and cooked through, 3 minutes per side. Place 1 or 2 slices of cheddar on each burger and place under broiler until cheese is melted, 1 minute.
Serve on brioche buns with tomato, guacamole, and pickled red onions.