Claar defends economic record, presents plan to pay back village debt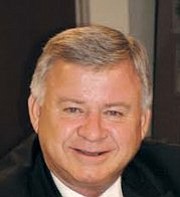 Bolingbrook Mayor Roger Claar received pushback from several residents in the village after hosting then-presidential candidate Donald Trump last September for a fundraiser in Bolingbrook. That event sparked backlash and even a challenge in the upcoming mayoral election from Will County Board Member representing Bolingbrook and now Mayoral candidate, Jackie Traynere. Traynere and a political group she is affiliated with, Bolingbrook United Slate have expressed concerns about the village's financial debt.
In Claar's "State of the Village" address in January, the group posted a response to his address on its Facebook page that stated: "What was glaringly missing was any substance regarding the massive debt incurred under Mr. Claar's leadership (currently $313,450,000) and how he plans to deal with it."
Traynere's campaign points to a $316.9 million debt the village has according to a Moody's Investors Service report released in June and the village's general obligation rating has also downgraded from A1 to A2.
"The downgrade to A2 reflects the village's substantial long-term liabilities, which are expected to increasingly challenge its financial operations given rapidly growing fixed costs. The village's weak debt profile is characterized by above average pension liabilities, an elevated debt burden, ascending debt service schedule and extremely slow principal amortization. The downgrade also reflects the village's relatively limited liquidity driven by increasing advances to other funds.
Balanced against its credit challenges are the village's strengths, which include a sizeable tax base, above average resident wealth levels, ample revenue raising flexibility provided by the village's home rule status and steadily growing revenues."
Claar explained that the bond rating downgrade is due in part to the public pension debt, which is a problem across the state in multiple municipalities. Part of the problem is that the cost-of-living adjustment to the pension plans increases about 3 percent per year, while revenues have only increased by 1 or 2 percent per year.
And with retirees like village police officers and firefighters living longer and therefore being paid longer, that requires municipalities like Bolingbrook to shift the burden onto taxpayers, who are taking on an increasing amount of the state pension contributions statewide in Illinois. But of course state pension reform is a matter state lawmakers have to deal with.
Then, on February 16, the "Bolingbrook First" ticket (which the mayor is running on) published a document on its Facebook page breaking down the village debt. The document states the village needed to take on the debt in order to "put the infrastructure in place to accommodate, and in many cases, to attract growth." The village population has grown significantly, from about 56,000 in 2000 to about 75,000 today.
On top of that, the document argues that the village had to spend money for the construction of Remington Boulevard, Crossroads Parkway and 35 million square feet of industrial, office, medical and manufacturer buildings. Boughton Road and Janes Avenue were built on the east side of town and widened to accommodate traffic to the Promenade, COSTCO, IKEA and Bass Pro Shop. The village's fourth and fifth fire stations along with sewer treatment plant expansions were built. And to accommodate the growing population, the Bolingbrook Police Department, public works building and a community center were expanded.