Zonta club advocating for women
Madhu Mayer | 3/9/2017, 6 a.m.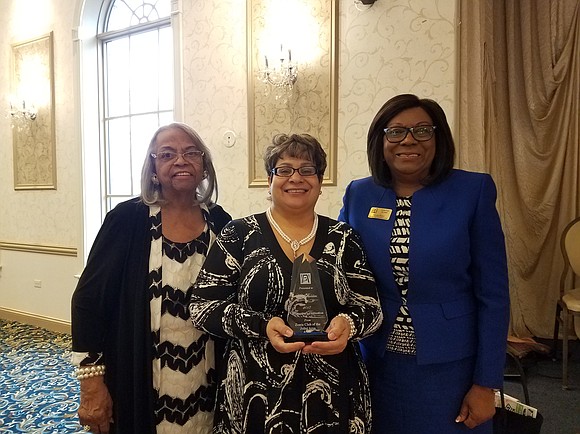 It's Women's History Month and in honor of women there is a group in the Joliet area that strive to help women become the best they can be.

Zonta, is a International Women's Organization with local chapters across the country who advocate for women and girls. Bonnie Horne, and Mary Baudino, Zonta local chapter Club members were co-chair of the clubs Fundraiser that took place this past Sunday March 5 in Lemont. Yolanda Reyes is chapter president. About 250 attended the event including elected officials, who were on hand to support the fundraising efforts. Horne, a member since the local chapter began said the goal of the Zonta Club of Joliet Area chapter is to provide advocacy and services for women as the clubs do across the world. Knowing the club needs to reach the younger population, the organization formed the Z Club several years ago, targeting female students at Joliet Central High School. The goal, according to Horne, is to eventually expand the program to other high schools.
"It gives them the opportunity to develop leadership skills and enhance their understanding of global women's issues," said the Joliet resident.
In addition to developing future leaders, Zonta Club tackles problems like human trafficking, children and mother health issues and sexual violence on college campuses. The organization will also present the 2017 Young Women in Public Affairs (YWPA) Award to encourage young women to participate in public affairs by recognizing a commitment to the volunteer sector, evidence of volunteer leadership achievements and a dedication to the empowerment of women.
Last year, the club hosted its first Festival of Culture event, raising more than $9,000. The festival, provided guests with samples of food from around the globe and other activities emphasizing Joliet area's diversity and the funds went toward local service projects dedicated to empowering women.
As part of their annual fundraising, the Zonta Club of Joliet Area honored Kay Bolden for her contribution and dedication to making area girls lives more enriched. Bolden was presented with the 2016-2017 Woman of Distinction Award, recognized for contributing to Zonta's mission of improving the status of women locally and around the world.
Kay Bolden is the executive director of the Warren-Sharpe Community Center in Joliet. The daughter of local Civil Rights' advocate and retired Judge Raymond and the late Kathleen Bolden, the Joliet native said she learned from a young age the importance of standing up for justice; defending the disenfranchised; and of working to end social inequalities, according to Horne.