Spicy Coconut Salmon
3/10/2017, 11 a.m.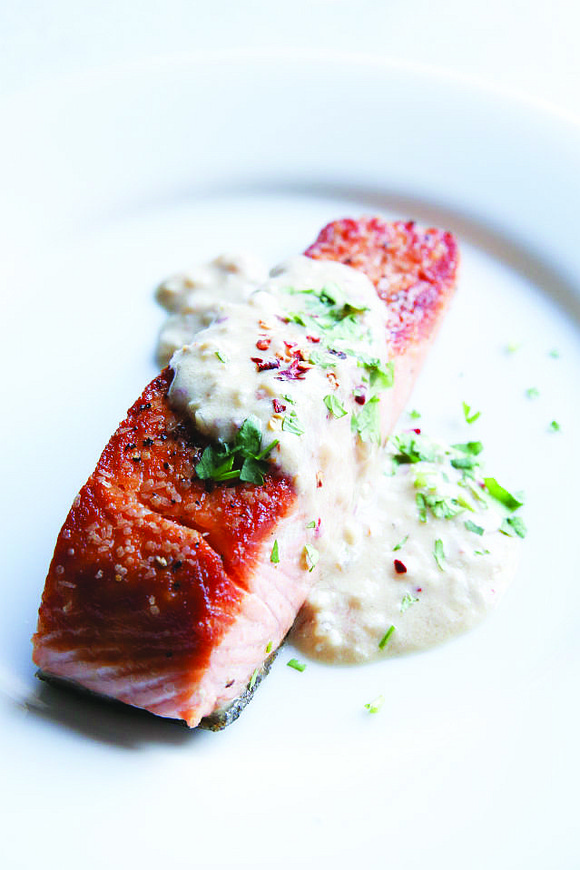 SERVINGS: 4
INGREDIENTS
Extra-virgin olive oil
2 garlic cloves, minced
1/2 c. diced onion
1 1/2 ginger, grated
1 tsp. red pepper chili flakes, plus more for serving
1 (13.5 oz) can coconut milk
4 salmon pieces, about 2 lb.
kosher salt
Freshly ground black pepper
2 tbsp. Chopped cilantro
DIRECTIONS
In a saucepan over medium heat, warm 1 tsp olive oil and cook garlic, onions, ginger, and chili flakes until softened, 3 minutes. Add coconut milk and bring to a boil, then simmer on medium until thickened, 10 to 12 minutes.
Meanwhile, preheat a large cast-iron skillet over medium-high heat. Season salmon with salt and black pepper. Drizzle skillet with olive oil and sear salmon, 4 minutes on each side.
Serve salmon with warm spicy coconut milk sauce and top with chili flakes and cilantro.