Louis Roederer Brut Premier NV - $49.95

Champagne Louis Roederer Brut Premier ($49.95) is a shining example of why people who love French Champagne, do so because of its distinct flavor, power and elegance. Roederer Brut Premier has all three qualities in abundance. Family owned since 1776, The sparkling wine is proof positive of the family motto that 'good wine takes time." This Pinot-dominated wine is a perfect example of how 'terrtor', that elusive term that refers to the specific time and place of a wine's production, influences the final outcome.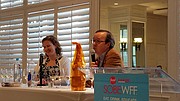 According to Champagne Louis Roederer Group President and CEO Frederic Rouzaud, the story of the champagne starts in the vineyards. "It starts in the vineyards," he told a Wine Spectator Seminar at the recent South Beach Wine and Food Festival in Miami Beach. "The wine is the product of a specific terroir, composed of chalk soil, a specific climate with a continental influence. It starts with a specific history and a sophistication of the grapes. This is an example of a winery that is coming back to its roots. There are no chemicals used in the making of Champagne Roederer. No pesticides. It is biodynamically produced. In this way, we are bringing people back into the winemaking process to produce a champagne that is pure and honest an true to its roots." The result is a champagne that is intense, but elegant, with persistent bubbles and a taste that is rich and balanced with flavors of ripe lemons, the aroma of white flowers and the underlying taste of white minerals and chalk that is so distinctly Champagne. A hint of raspberry and honey shines through, giving it that satisfying round flavor that only a good champagne can give. If you enjoy drinking Champagne sometimes, this is the real deal, and the one you want to have on hand to welcome the first flowers of spring.
(Remember to drink responsibly)