Shorewood mayor delivers good news at state of the village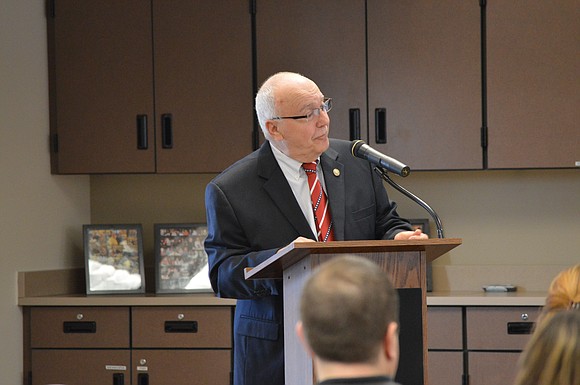 If things had gone differently, Shorewood Mayor Rick Chapman may not have been around to deliver his latest state of the village address.
Chapman thanked the "guardian angels" from Troy Fire Protection District who responded to a call to the mayor's home in February for what turned out to be a heart attack brought on by a blocked artery. He was transported to the hospital and after a procedure was back home within a day.
"I'm good for another 100,000 miles," said Chapman during the state of the village address before a noon-time audience at the Troy Township Community Center.
"I feel better than I ever did."
The village had a successful year in 2016 he said, with 100 new homes constructed and 33 new businesses opening their doors. New businesses included a Noodles & Co., Nothing Bundt Cake, Starbucks, CVS Pharmacy, Dunkin' Donuts as well as the memory care unit at Alden Estates. The village also added another mattress store, a Mattress Firm, at the northeast corner and across the road from the village's other Mattress Firm store at the intersection of Route 59 and Black Road.
Chapman said that the village would see other new businesses open in 2017 with plans for a La Quinta Inn, a Which Which sandwich store, UPS store and more new home construction from M/I and Meadowbrook Homes.
According to Chapman the village will also be busy with some large-scale projects that will move forward in 2017 as well. They recently approved a TIF district that will funnel funds for redevelopment of an area centered around the Route 52/59 intersection and village entrance.
The completion of several large capital improvement projects including the construction of the 4.5 acre Wynstone Park—the first such amenity for residents in the southern end of the village—as well as road projects that will re-align Wynstone Dr. at Route 52, widening of the intersection of Route 52 and River Road, a repaving project of River Road from Black Road to I-55.
Work will continue with the City of Joliet and Culinan Properties on road improvements that will be needed before construction begins on a retail site on a 264 acre piece of land near the intersection of I-55 and I-80 in Joliet.
The village is poised to move forward on its plan to bring Lake Michigan water to the village. Voters approved home rule status for the village in 2015 that paved the way for a sales tax increase to pay for the multi-million project that will connect a 30-inch, 17-mile pipeline to the Illinois American source in Bolingbrook. This year, Chapman said, the village will secure easements needed to build the pipeline in ComeEd's right of way.
"We think we're in pretty good shape," he said of the project's progress, which is expected to take 6 to 7 years to complete.
Despite a question of how much the project will ultimately cost, Chapman said that the village would continue to be good stewards of residents' funds, noting the village's maintenance of a 'AA+' bond rating while refunding about 1 ½ cents for every 4 cents the village collects from residential property taxes each year.
"We would have a 'AAA' bond rating if we weren't in the state of Illinois," said Chapman, "We pay our bills on time." brock@thetimesweekly.com